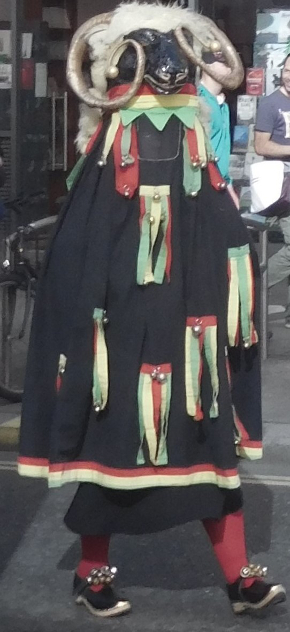 Morris dancer in all his finery.
Islington branch supports Pearly King and Queen Event
Staff from Thomas Treacy in Islington showed their support for the annual Pearly King and Queen Event on Saturday 24 September at Guildhall in the City of London.
Guildhall Yard became home for the afternoon to Morris dancers, Maypole dances, vintage cars and marching bands. Staff from Thomas Treacy were on hand with the Dignity charity organ to provide traditional London music.
The tradition of the Pearly Kings and Queens was established in the 19th Century by Henry Croft, an orphan street sweeper at Somers Town Market. He was inspired by the Costermongers, a group of market traders who looked after each other and could be identified by the buttons sewed onto their garments. Henry would go out on to the streets to collect money for charity, wearing a pearl button suit to attract attention. When demand for his help became overwhelming he asked the Costermongers for assistance, many of whom became the first Pearly Families.
By joining in the events the staff at Thomas Treacy raised £71 for Marie Curie and an excellent afternoon was enjoyed by all.