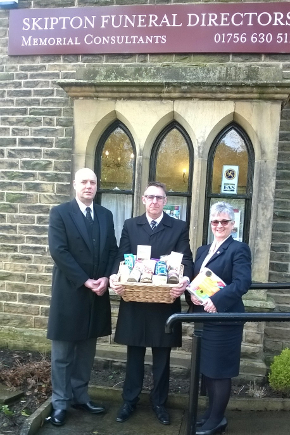 (L-R) James Herbert, Manager, Chris Matthews, Funeral Director and Louise Worth, Funeral Service Arranger are ready to accept collections for Skipton Food Bank.
Skipton Funeral Directors becomes new drop-off point for Skipton Food Bank
Skipton Funeral Directors has become a new drop-off point for Skipton Food Bank, an independent food bank that provides emergency food parcels for people in the Skipton and Craven area.
Skipton Food Bank was established by Skipton Baptist Church in 2012 after distributing Christmas and Easter hampers to the local community. The service was initially run by volunteers but with the help of a two year grant from Craven District Council's Community Core Funding Scheme in April 2014 they were able to employ a part-time manager. The service continues to be run and supported by Skipton Baptist Church.
The food parcels are distributed through support agencies including North Yorkshire Social Services, Skipton & Craven Children's Centres and many others. 
Louise Worth, a Funeral Service Arranger at Skipton Funeral Directors thought the branch would be an ideal drop-off point due to it's proximity to the local housing estate, free outside parking and it's location on a busy route to Skipton and the local village of Carleton.
Items that can be donated include tinned foods such as baked beans, spaghetti, meat, potatoes, fruit and vegetables, breakfast cereal, pasta, shower gel, shampoo, soap and other sanitary products.
Louise Worth, Funeral Service Arranger
"I feel it is important for us to support our local community especially when families are finding it harder to make ends meet. We are delighted to be a new drop off centre for the local community Food Bank along with other valued organisations and volunteers who make a difference to those who may need a helping hand. I am passionate about the caring role we perform at Skipton Funeral Directors, making a difference to families at a challenging time."