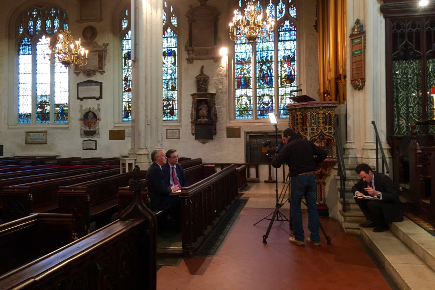 Hilary Benn MP with the Channel 4 News team.
Funeral home's historic ledger features on Channel 4 News
One of J H Kenyon's historic funeral ledgers was featured on Channel 4 News earlier this year when Shadow Foreign Secretary, the Rt. Hon. Hilary Benn MP, was interviewed about his uncle, an RAF pilot who was killed in the Second World War. At the time, J H Kenyon conducted his funeral.
The broadcaster had approached each of the main political parties for someone with a story to tell as to why they were in favour of Britain being a member of the European Union or supported a withdrawal.
Philip Smyth, business manager, said: "Following consultations with our company, it was agreed that I could take the 1944 ledger from the funeral home for filming at St Margaret's Westminster Abbey, the Parliamentary Church. We provided strict instruction that no other deceased persons name would be filmed in order to preserve client confidentiality."
J H Kenyon have a long standing association with the Benn family having been entrusted with the arrangements for the funerals of Hilary's father, Labour MP Tony Benn and grandfather, the first Viscount Stansgate.