Our commitment
We are committed to maintaining the quality of the environment in which we all live and we aim to reduce the impact of our operations so that we act in an environmentally friendly manner.
What we focus on:
Reducing our carbon footprint;
Reducing energy consumption;
Promoting sustainable development;
Minimising our environmental impact.
Managing our environmental impact
In 2015, our business continued to have a low environmental impact and its activities are not expected to give rise to any significant environmental risk over the next twelve months. All waste generated is properly disposed of in accordance with current legislation and steps are taken to recycle waste wherever this is practical.
Approximately 31,000 cremations at Dignity crematoria were mercury abated during 2015, representing 54per cent of the total number of cremations.
Dignity's coffin manufacturing facility has ISO14001 accreditation, an internationally accepted standard for an effective environmental management system that is designed to address the balance between maintaining profitability and reducing environmental impact. Our coffins are manufactured using raw materials that are sourced from well-managed and sustainable sources. 97 per cent of the coffins manufactured by Dignity are from Forest Stewardship Council (FSC) accredited timber.
CDP
As part of Dignity's ongoing commitment to reducing its carbon footprint and environmental impacts, the company has been reporting to the CDP (formerly Carbon Disclosure Project) since 2008. The CDP is a not-for-profit organisation that aims to reduce impacts on the environment by measuring disclosures from thousands of organisations across the world's major economies. CDP encourages best practice in reporting and reducing environmental impact though a scoring process. Scoring is based on a number of criteria designed to assess our Energy Management practices and Environmental Strategy, specifically around Performance and Reporting, Risk Management, and Business Strategy in relation to Climate Change.
Dignity's 2015 submission represented a significant improvement in our reporting practices and environmental policy and as a result Dignity was shortlisted for the "Best Year on Year Change in Performance" category amongst FTSE 350 companies.
Greenhouse gas emissions for 2015
The Group reports its Greenhouse Gas to CDP on an annual basis in tonnes of carbon dioxide equivalent resulting from the combustion of fuel (direct Scope 1 Emissions) and that resulting from the purchase of electricity (indirect Scope 2 Emissions). The emissions for the last five years are as follows:
|   | 2015 | 2014 | 2013 | 2012 | 2011 |
| --- | --- | --- | --- | --- | --- |
| Total | 22,443 | 21,826 | 22,228 | 22,958 | 22,590 |
| Per FTE Employee | 8.2 | 8.5 | 9.0 | 10.0 | 10.2 |
| Scope 1 | 14,988 | 14,437 | 15,077 | 15,097 | 15,202 |
| Scope 2 | 7,455 | 7,389 | 7,151 | 7,861 | 7,388 |
Methodology
Our greenhouse gas emissions have been calculated on a per full time equivalent employee ratio. This intensity metric is the best measure available to the Group given the diversity of the property portfolio, the three separate divisions of the business, and the absence of a similar business to benchmark against.
We have calculated our Scope 1 and Scope 2 GHG emissions since 2010 and have recently engaged Ecometrica Ltd to assist with the carbon emissions reporting, which supports greater transparency and accuracy of data.  Emissions have derived from accurate consumption information on utility bills, smart meter readings and fuel card data.
GHG emissions have been calculated in accordance with the GHG Protocol Corporate Accounting and Reporting Standard (revised edition), using the location based Scope 2 calculation method, together with the latest emission factors from recognised public sources , principally Defra/DECC. Dignity's carbon emissions disclosure has been undertaken in accordance with the Companies Act 2006.
Dignity is starting to collect Scope 3 data with a view, if possible and feasible, to reporting in the future.
ESOS compliance
Dignity qualifies for the Energy Savings Opportunity Scheme ('ESOS') and completed an ESOS assessment during 2015 confirming compliance by the revised due date of 29 January 2016.
Award-winning crematorium
In May 2015, Dignity's Wyre Forest Crematorium in Worcestershire was honoured at the Stourport Civic Society Awards. The annual awards encourage and recognise projects that contribute to the quality of the environment in the town.
The Crematorium and Cemetery opened in December 2011 and is a state of the art facility set in 23 acres of superbly maintained grounds and is a great example of how an inspirational new building can transform an area and provide a high level of comfort to the local communities it serves.
Improving effiency through investment or waste management
In 2015, a new conveyor system was introduced at Dignity's coffin manufacturing facility. This reduces noise, material wastage, manual handling and provides a safer working environment. This system required investment of £0.2 million.
Smart energy management
Dignity has fitted 1,011 electric smart meters by the end of 2015 with a further 88 remaining to be fitted in 2016. This represents 92 per cent of the estate where such meters may be fitted. 249 gas loggers have also been fitted representing 50 per cent of the total estate of 502 sites where such loggers can be fitted. 165 remain to be fitted.
Environmental Initiative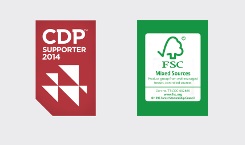 "
Benchmarking allows us to gauge our performance against environmental best practice standards