We own more than 826 funeral locations and operate 45 crematoria in the UK. We continue to have a strong market presence in pre-arranged funeral plans, where people plan and pay for their funeral in advance.
What we believe in
We are here to help people through one of the most difficult times in their lives
We do this with compassion, respect, openness and care
We want to be the company that everyone knows they can trust in their time of need
Our strategy
We plan to grow the profitability of our business by:
Operating in a traditional market where people use our services based on our reputation and through recommendations, where we believe our continued commitment to excellent service for our clients will generate a high level of referral and organic growth;
Continuing to control our operating costs;
Developing or acquiring additional funeral locations;
Developing, managing or acquiring additional crematoria;
National marketing of pre-arranged funeral plans, principally through affinity partners; and
Efficient use of our balance sheet to enhance shareholder returns.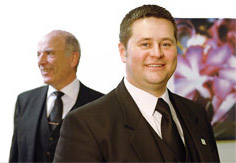 Corporate profile
A regularly updated summary of our business and operations.