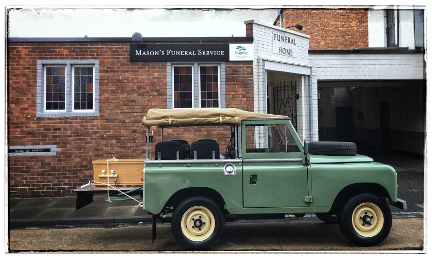 The converted Land Rover Defender.
Attention to detail at Masons Funeral Service
Damon Steadman, Funeral Manager explains the lengths Dignity owned Masons Funeral Service went to carry out a gentleman's specific final wishes.
When the family contacted us, they explained Mr Craig had left very detailed instructions for his funeral.  One of his main wishes was to be transported to the funeral in his very own Classic Land Rover Defender, something that he had lovingly restored and taken great pride in. 
He was a member of the North East Rovers Owners Club (NERO) and we discussed with the family the option of using one of the adapted Land Rover Defenders available to hire however, it meant a lot to the family that the gentleman's own Land Rover was used. 
As we always say to a client, if it's possible we can do it, if it's impossible we can't! A friend of the family managed to get a deck from an old Daimler Hearse that was being scrapped and managed to fit this into the back of the Land Rover.
The land rover has a short wheelbase, which meant there was always going to be an over hang. The client kindly brought the vehicle into us ahead of the funeral day to make sure the coffin would fit and be secured onto the deck. 
The gentleman also wished to be "tied on" with Baler Twine, so this was also tied around the coffin once it was secured on the deck.  On the day of the funeral, the son transported his dad from the funeral home to the family address, where they met a large group of other Land Rover enthusiasts who followed in their own vehicles to Stranton Grange Crematorium in Hartlepool. 
After the service, the Land Rover was there for mourners to see and many admired it, taking pictures of it and commenting how nice it looked. The gentleman also left instruction that on the Coffin plate we didn't put "Died" followed by the date, but instead to put "Best Before End!"
What was nice about this particular funeral was that the instructions the gentleman left, were somewhat challenging with the use of his own vehicle, but was very rewarding knowing we helped carry them out to the very detail. 
The article and photographs are published with the permission of the family.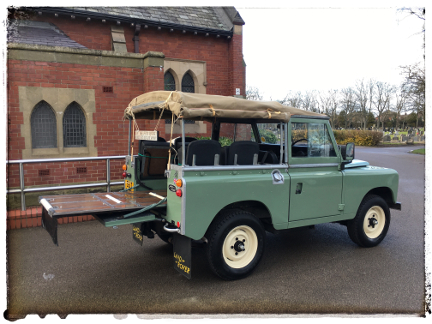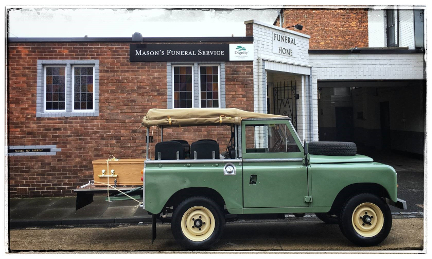 The converted Land Rover Defender.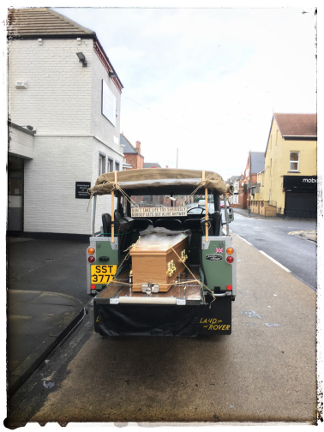 The coffin was "tied-on" using Baler Twine as requested by the gentleman.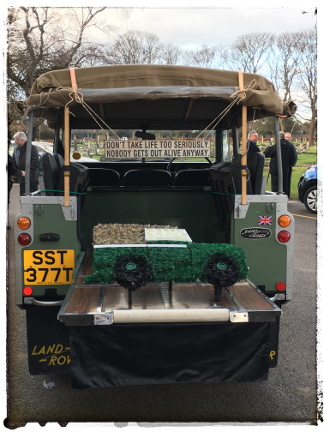 A floral tribute of a Land Rover Defender was also placed on the vehicle.