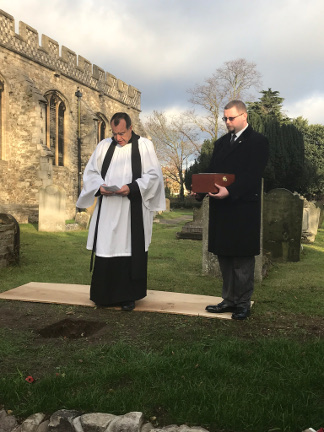 Funeral Manager, Matthew Fairbairn attending the service as Funeral Director.
Tanners Funeral Service comes to the aid of Reverend Paul Mackay
Dignity owned Tanners Funeral Service in Prittlewell, Southend recently came to the aid of Reverend Paul Mackay, Priest in charge of Saint Marys in Prittlewell.
Saint Marys is the oldest and largest parish church in South East Essex, founded in the seventh century, with remains of late Saxon walls. The church recently had some restoration work carried out on the main church path and low walls that lead into the church entrance.
The work involved removing and reinstalling the walls so damaging ivy roots could be removed. During the process, a large number of human skeletal remains were discovered which are thought to be over three hundred years old.
Reverend Paul Mackay approached Katie Howgill, a Funeral Service Arranger at Tanners Funeral Service for help. Katie arranged for a double cremated remains casket with suitable inscription plate that would encompass the remains.
Matthew Fairbairn, Funeral Manager attended the short re-burial service to act as Funeral Director. Reverend Mackay thanked Tanner Funeral Service and particularly Katie and Matthew for their help.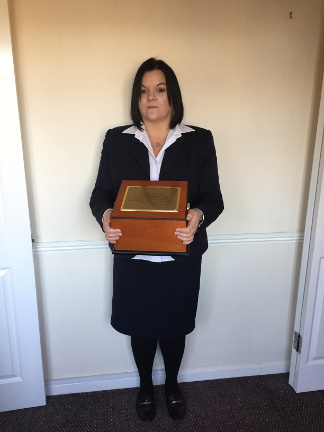 Katie Howgill, Funeral Service Arranger with the remains from Saint Marys Church.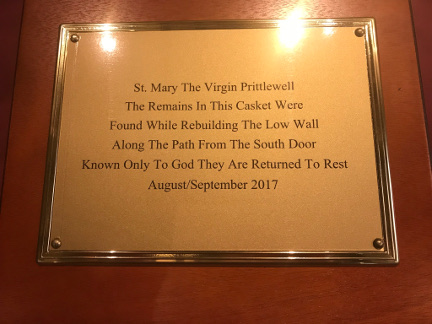 A close up of the inscription plate on the double casket.