Dignity is committed to protecting, as far as reasonably practicable, the health and safety of its employees and visitors to its premises. Our employees recognise this commitment and that workplace safety remains a key priority. Working in a safe environment allows our people to focus on delivering excellent service to our clients. Protecting our people also supports employee engagement and retention.
Governance and management
Dignity has a full-time Head of Health and Safety who is supported by eight Health & Safety Officers with a broad collective experience from differing organisational backgrounds. Dignity's Head Office, crematoria and coffin manufacturing factory also have their own managers with responsibility for Health and Safety. In the last five years the number of accidents has reduced by 27 per cent. Dignity continues to proactively monitor health and safety through quarterly analysis, inspection of premises, surveillance and regular reports to the Board and monitors reactively by investigating accidents and analysing statistics.
Dignity's coffin manufacturing facility in East Yorkshire has OHSAS18001 accreditation officially recognising the factory as a safe and healthy environment in which to work.
Health and safety performance
Our Health & Safety have worked diligently to reduce incidents and have focused on improving our safety culture, behaviours and risk reduction. We continue to implement and build on these activities, monitor compliance and proactively identify areas requiring action with the intention of further risk reduction across the business.
Driving continuous improvement
We have a strong culture of safety and operational excellence and through continuous improvement we focus on delivering excellent client service. Our aim is to continue providing excellent leadership in the pursuit of safe and environmentally responsible workplaces.
Health and safety training (number)
Health & Safety training initiative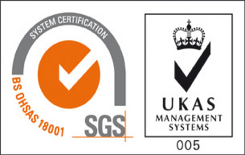 "
OHSAS 18001 is a widely recognised management system that is awarded to sites that have a proven record of promoting health and safety by providing a framework to identify and control risks and reduce the potential for accidents.