The Simple Funeral
The Simple Funeral offers our usual high standards of funeral care and a dignified send off, with a fixed range of options for you to choose from.

Whether you want a burial or a cremation for your loved one, our Simple Funeral allows you to say your final goodbye in the way you choose. Giving you the option of a service at the place of committal, The Simple Funeral is a suitable choice if you are able to be a little flexible when it comes to choosing the date, time and any additional extras for your loved one's farewell.
Call 24 hours a day on 01255 220927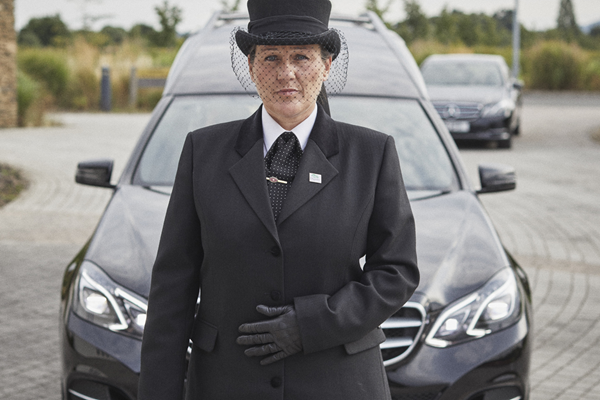 Our Service to You
We have a professional team of funeral experts ready to help during this difficult time, ensuring you are not alone when it comes to making important decisions.

We will explain all aspects of The Simple Funeral, detailing what your options are and where a limit to the choices may apply. This is in order to ensure the arrangements are in keeping with your wishes, and you are satisfied with how the funeral will go ahead. As part of our service to you, we will also organise the preparation, collection and distribution of the relevant documentation, as well as manage payment of the third party costs required for the funeral to proceed.

Throughout the time your loved one is in our care, they will be treated with respect and consideration at all times, resting in our climate-controlled mortuary. You will be able to visit them in our peaceful and private chapel of rest at a pre-agreed time.

The price includes a basic coffin with lining and fittings.
Estimated Funeral Cost
Cost for cremation only. For information on burials, please call us.
Simple Funeral

£1,995

(Includes our Park Coffin)

Plus estimated third party costs for cost of cremation and attendance of a celebrant or minister

£1,112

Total estimated cost excluding optional extras

£3,107
The Simple Funeral at a Glance:
A choice of cremation or burial with an optional service at the place of committal at a mutually agreed time and date for an additional fee

The suitable option if you have some flexibility when it comes to the date, time and selecting additional services

Your loved one will be brought into our care by our highly-trained and professional team, using specialist vehicles and equipment

Personal, face-to-face guidance at every stage of the arrangement process

A complimentary online Funeral Notice, informing friends and family of the service and commemorating the life of your loved one

Price includes a basic coffin, with lining and fittings

We will liaise with the all necessary third parties on your behalf

An appointed funeral expert will provide support throughout, directing and ensuring the funeral runs smoothly on the day

SOME IMPORTANT THINGS TO CONSIDER

The procession begins at our funeral home and travels directly to the place of committal

There is no option for an alternative service venue

Your choices for the date and time of the funeral may be limited

Personalisation is also limited, in comparison to The Full Service Funeral
Alternative Choices
Uncertain whether The Simple Funeral is the right option for you? View our Full Service funeral below:
Our Service
Our Simple Funeral provides you with a lower cost funeral, carried out with the same care and attention to detail we apply to everything we do. It is the ideal option if you expect no compromise on the quality and the standard of service, but don't mind a little flexibility when it comes to personalisation.
Your loved one will be looked after in the premium facilities of our Clacton funeral home, with one of our professional arrangers on hand to support and take care of you. With the funeral taking place at a mutually agreed time and date, subject to availability, a funeral director, chauffer-driven hearse and pallbearers will be there on the day to ensure everything runs smoothly.
To find out more about our Simple Funeral, call our funeral home on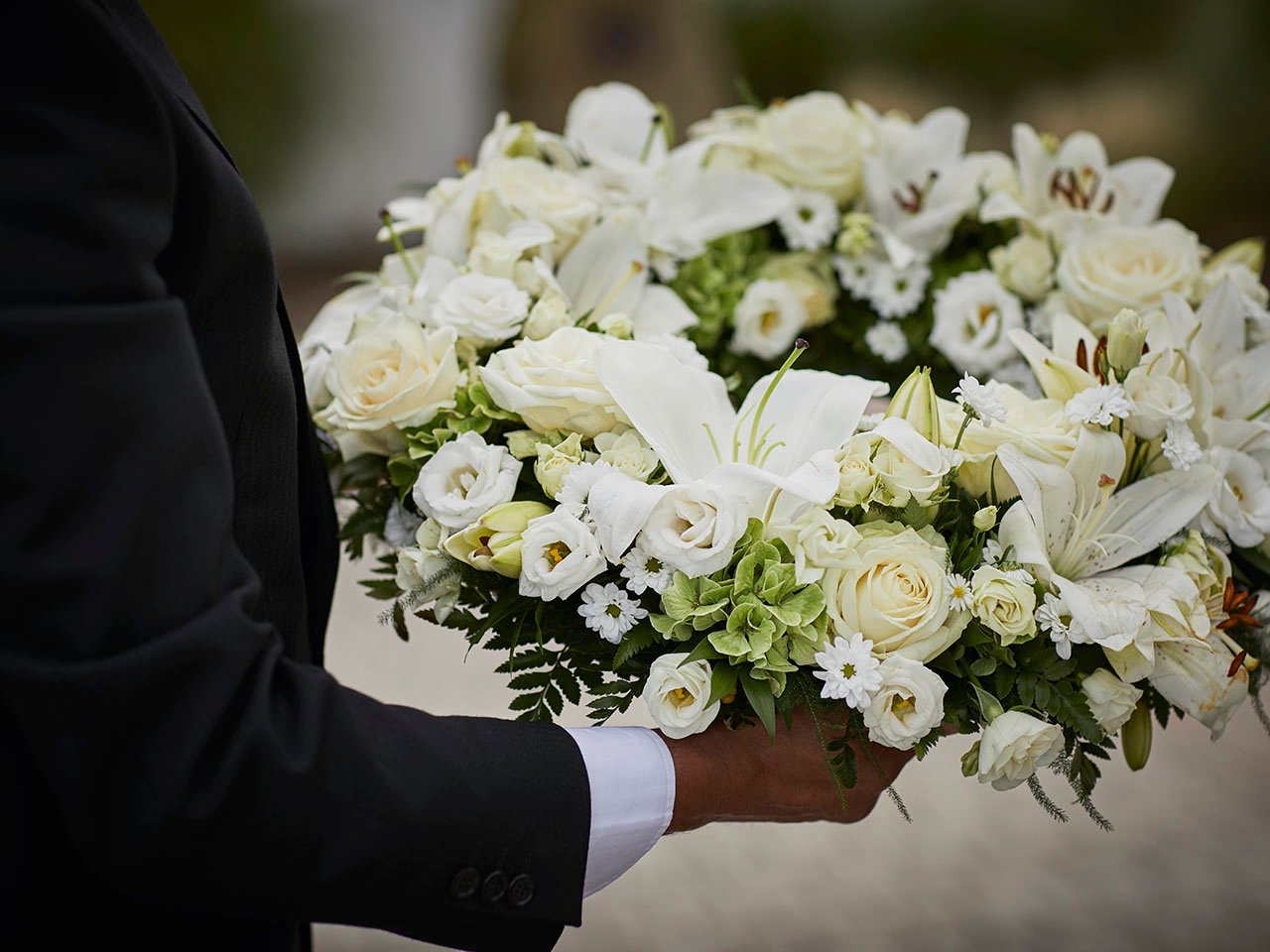 Our Park Coffin
Included in the price of the funeral service, your loved one will be laid out in our Park Coffin, which combines quality with a classic, no-frills aesthetic.

Covered in a black oak effect foil veneer, complete with a glossy satin finish, this coffin has a flat lid and matching black plastic handles. The lined interior is fitted with a pillow and white taffeta frill.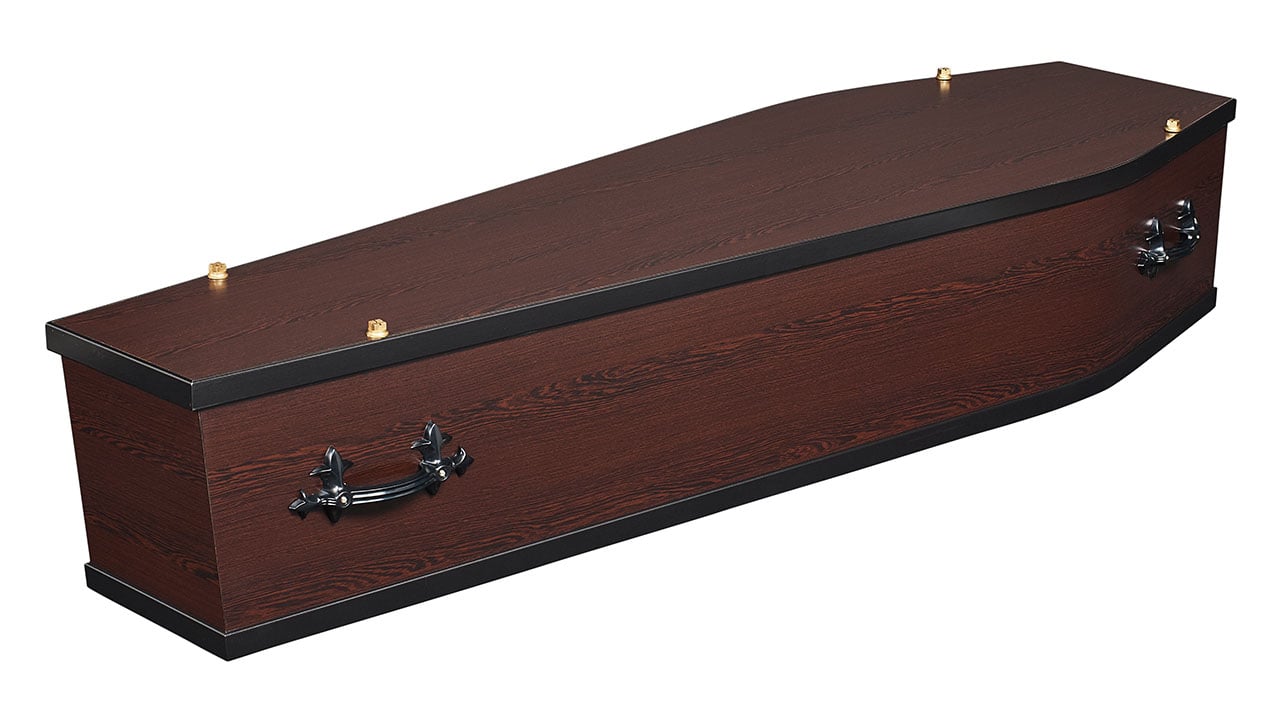 Our Hearses
As the vehicle that will bear your loved one to their final resting place, the hearse is the focal point of the funeral cortege. For that reason alone, we ensure that our hearses run smoothly and are of the highest standard in appearance.

We will provide one of our chauffeur-driven hearses to carry the coffin to the funeral service, crematorium or place of committal. Depending upon the type of service you choose, we can personalise the route of this final journey to take in locations that, during life, may have had a specific meaning to your loved one.

A motorised hearse is included in the price of the funeral, but we also have the capacity, at an additional cost, to offer horse-drawn hearses, along with a range of alternative carriages. Popular choices include campervans, motorcycles and fire engines. To find out more, speak to one of the team at Abbey Funeral Directors.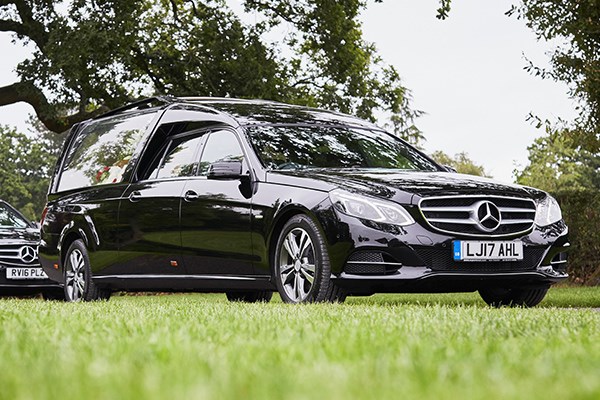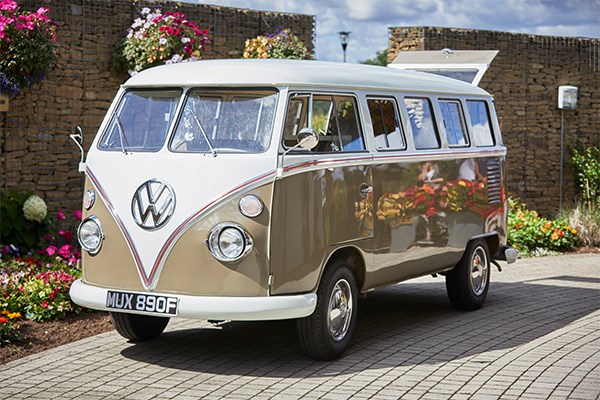 Our Limousines
We have a fleet of funeral limousines available for use by you and your immediate family, and, if desired, extended family and friends. Built to the highest specifications and professionally maintained to ensure continual service, our chauffer-driven limousines provide a comfortable and dignified method by which to travel to your loved one's funeral.

Dependent upon the style of vehicle, our funeral cars are usually capable of carrying a maximum of between seven and nine mourners. It is traditional for immediate family to take the first and, if necessary, second limousine, with other family and friends using any additional cars or following on in their own vehicles.

To find out more about our funeral limousines, speak to one of the team at our Clacton funeral home today.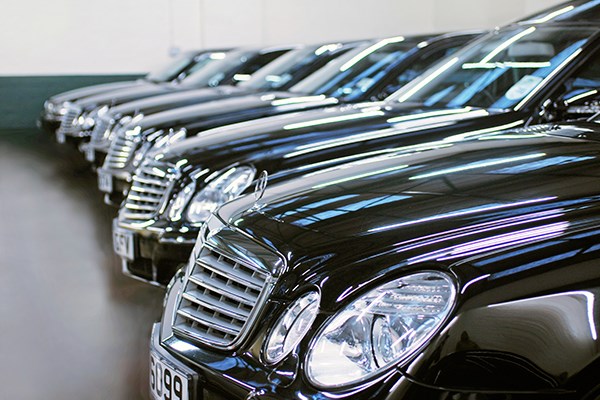 Our Range of Urns
From the traditional to the contemporary, through to the eco friendly, the cremation urns within our range provide a decorative and respectful choice for keeping your loved one's ashes safe. Take a look at the urns and scatter tubes we have to offer.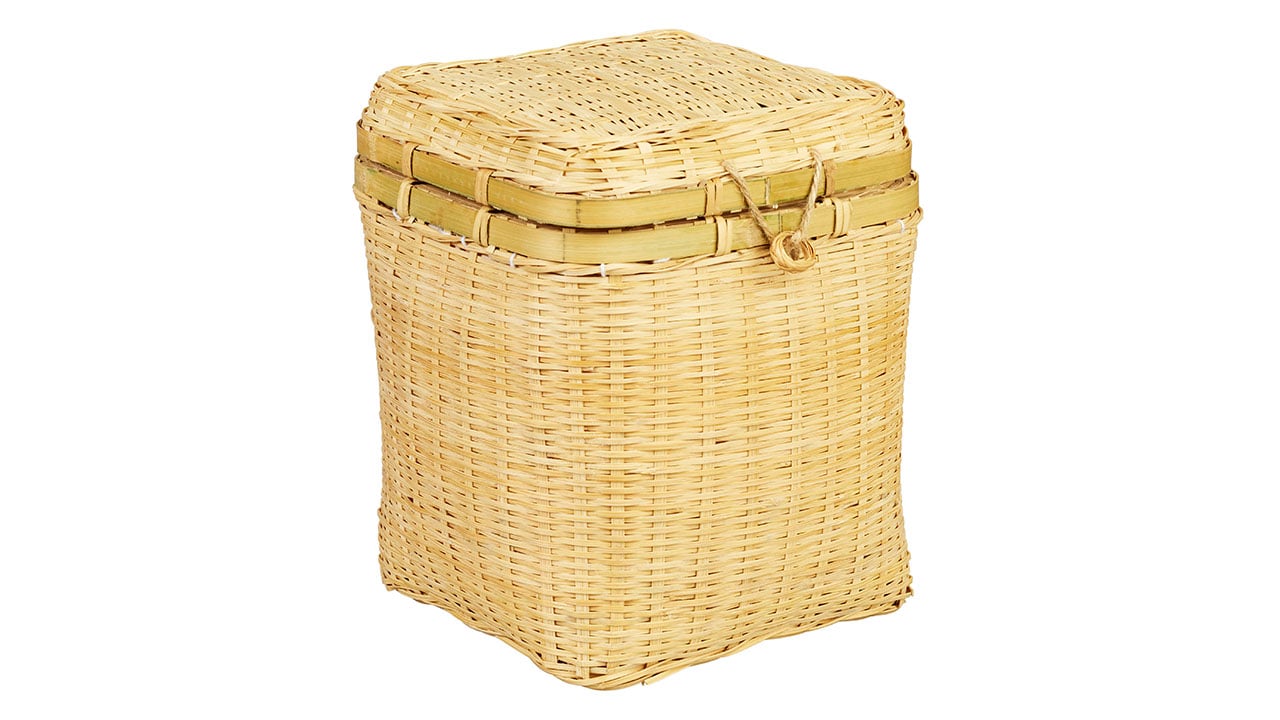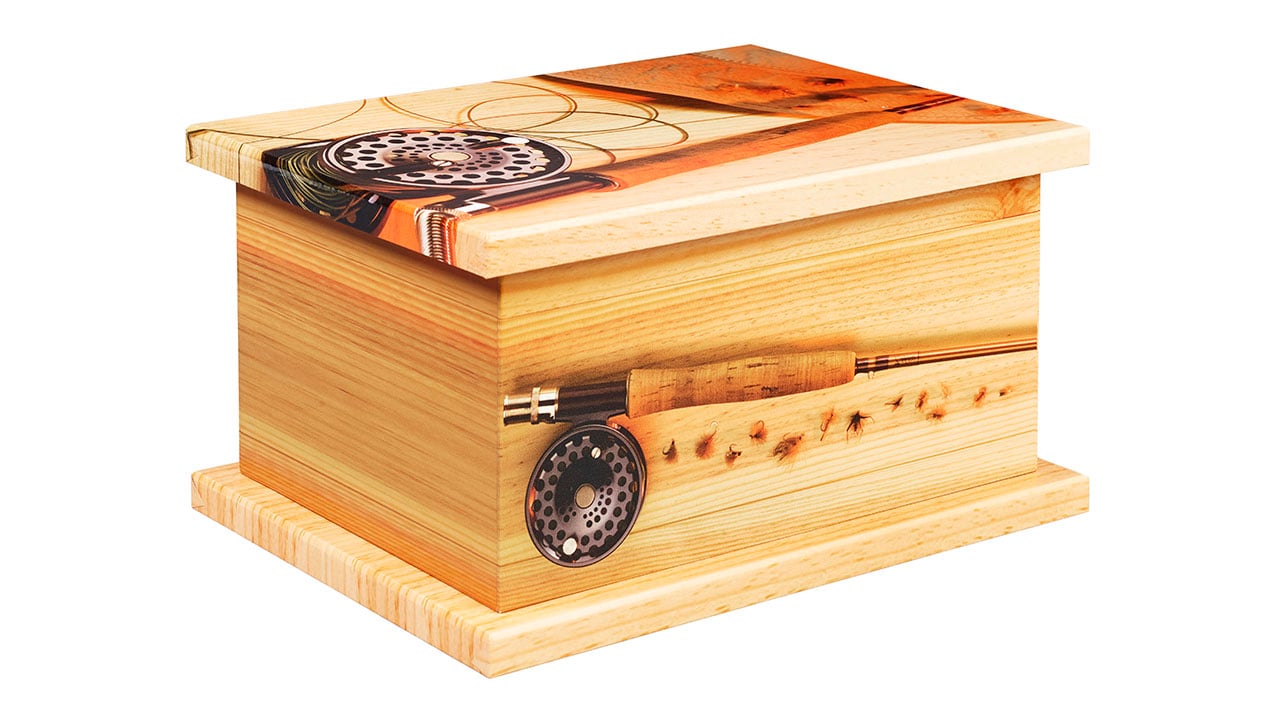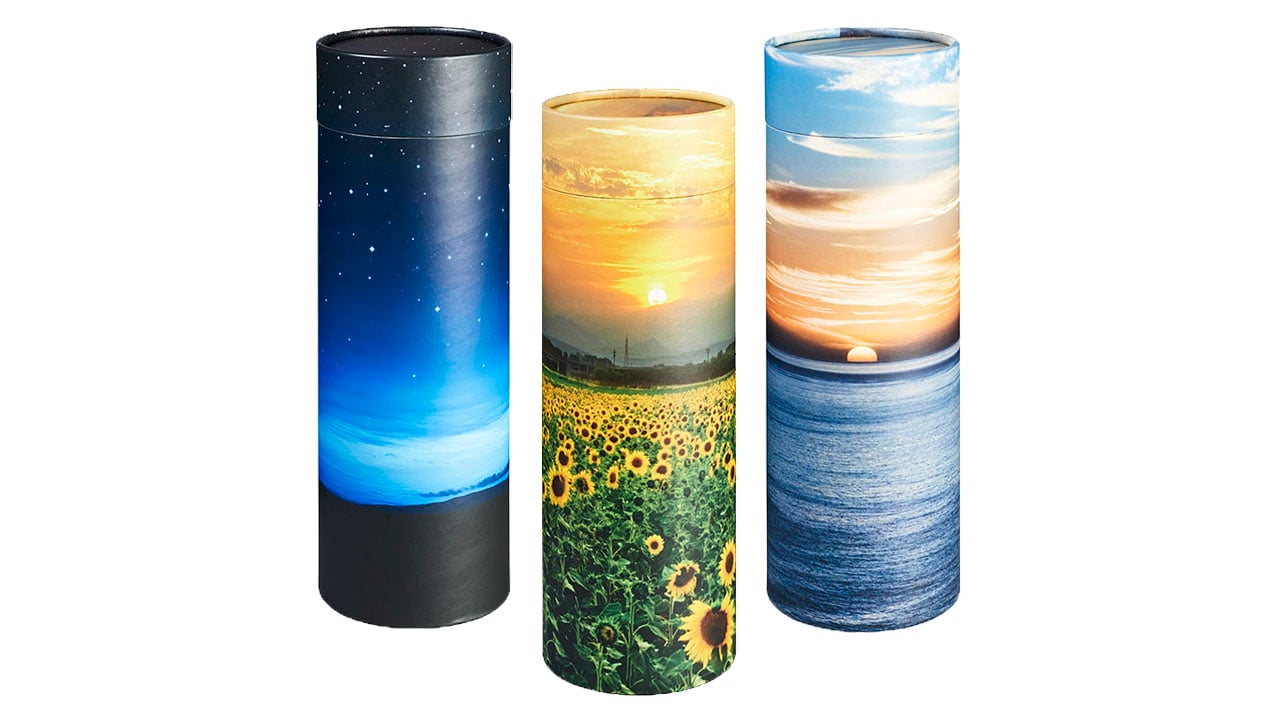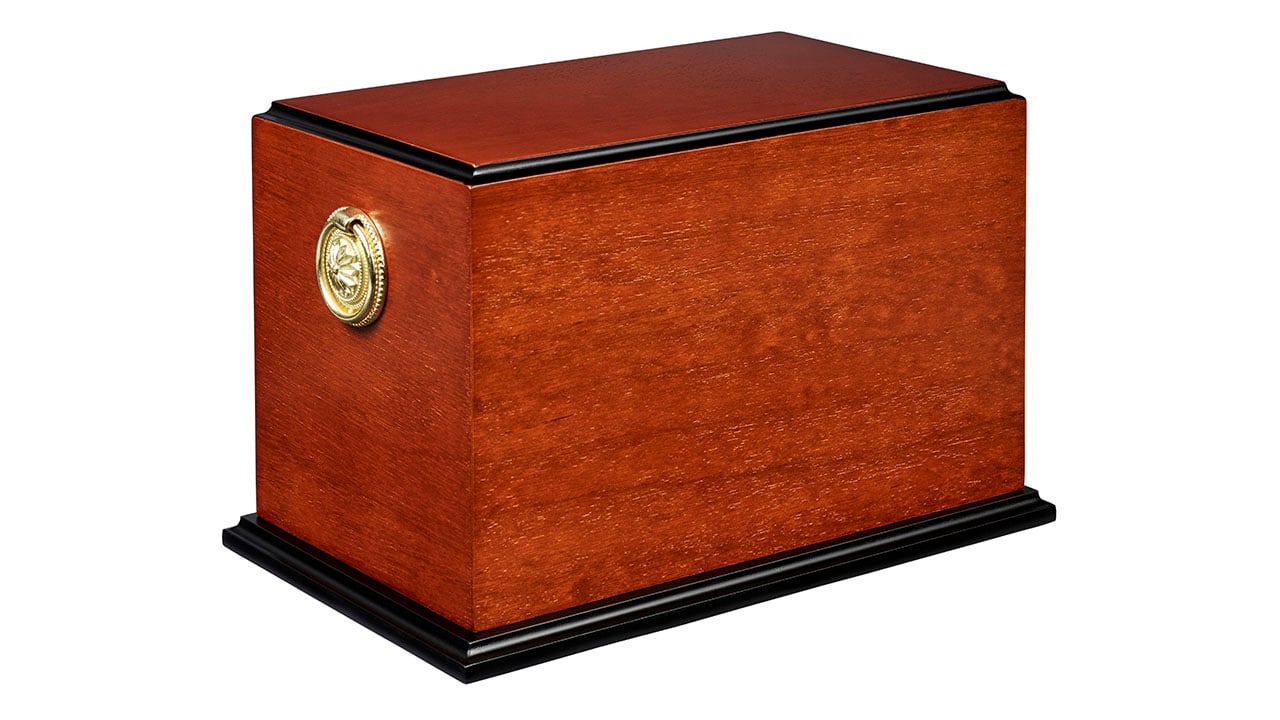 Natural Ashes Containers
Environmentally-friendly ashes containers made to the highest standards from sustainable and biodegradable materials.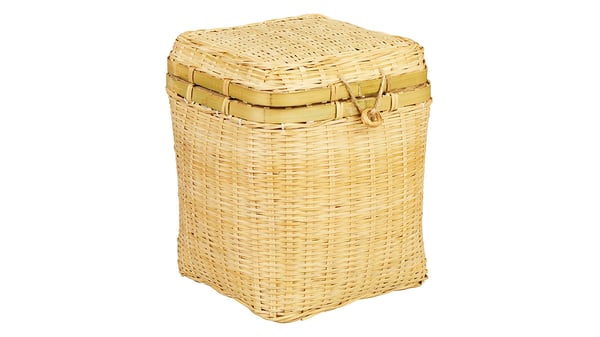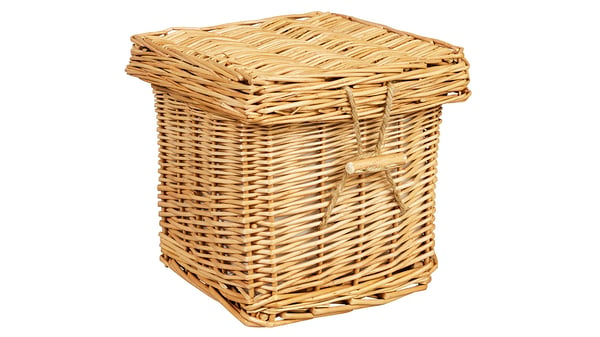 Picture Urns
For a more contemporary look, our picture urns can offer a personalised touch, with a range of designs that can be chosen to match the coffin. Printed directly onto the wood for the highest quality finish.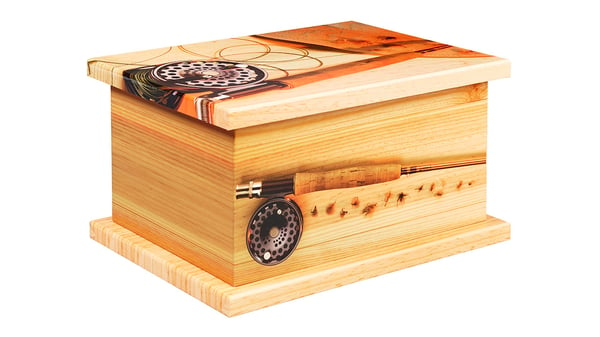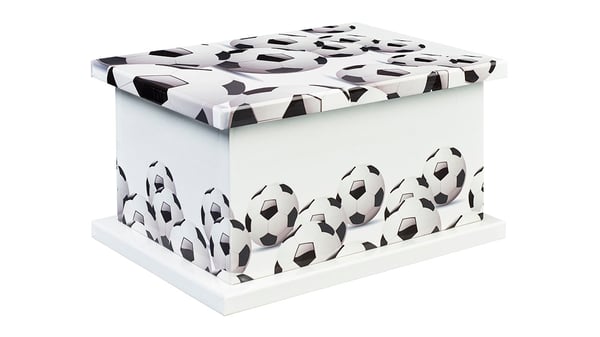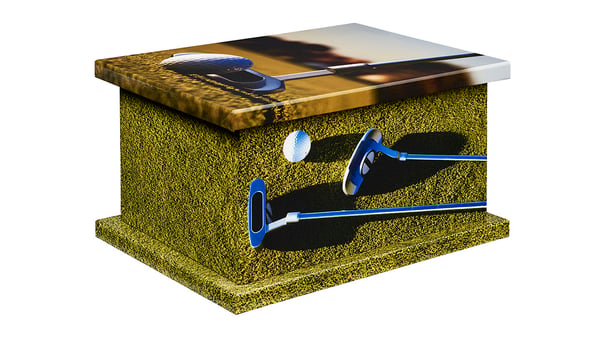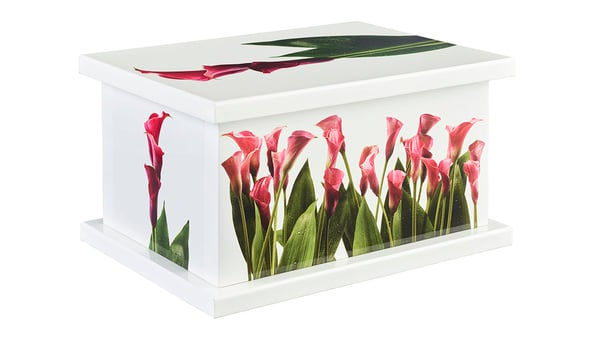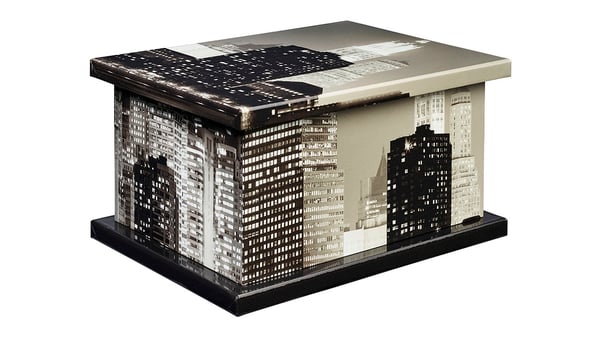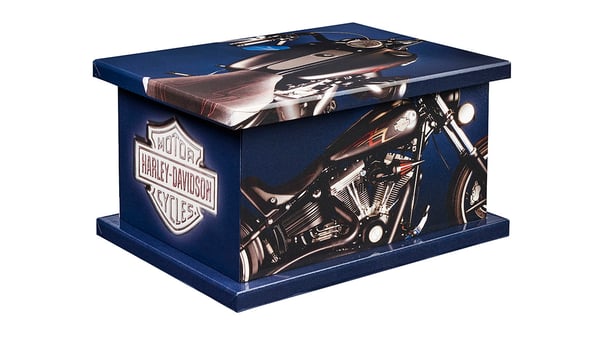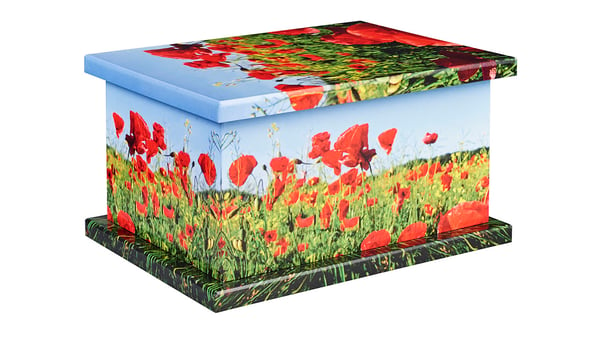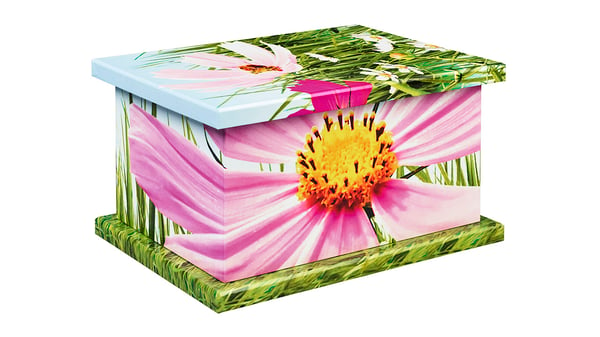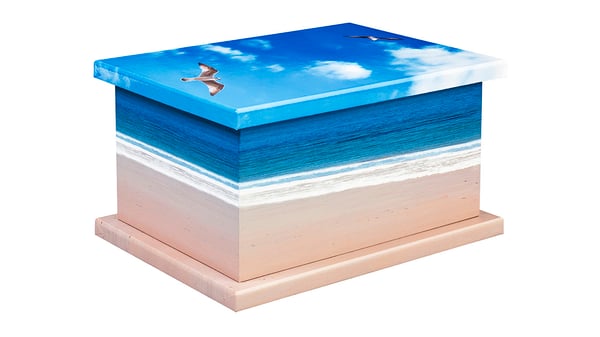 Scatter Tubes
Made from 90% recycled materials and available in a range of appealing designs, our scatter tubes are suitable for the use of scattering ashes, burying in the ground, or as a simple keepsake to remember your loved one by.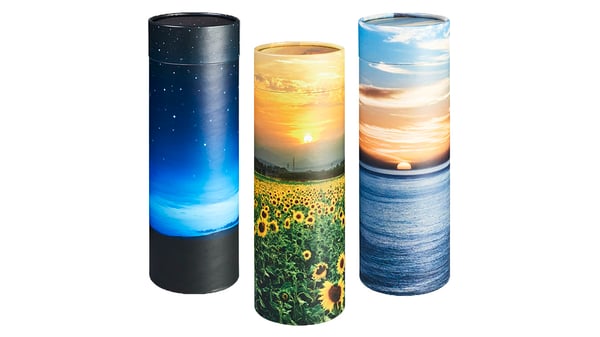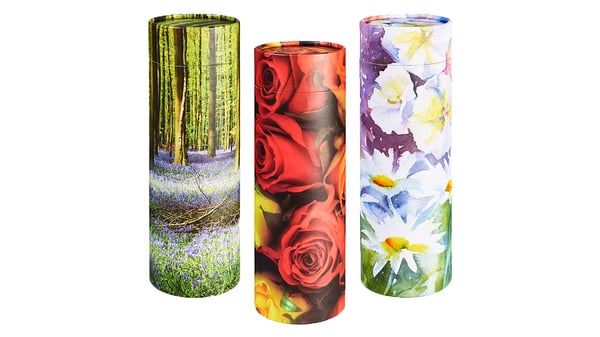 Traditional Urns and Ashes Casket
A selection of traditionally-designed urns and caskets, providing a dignified final resting place for your loved one's ashes.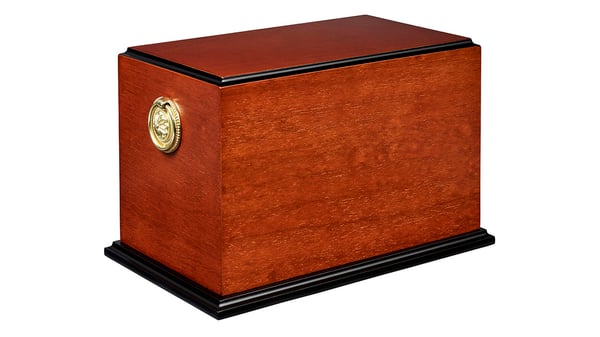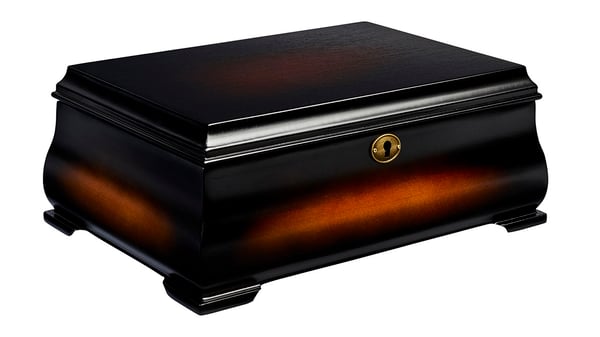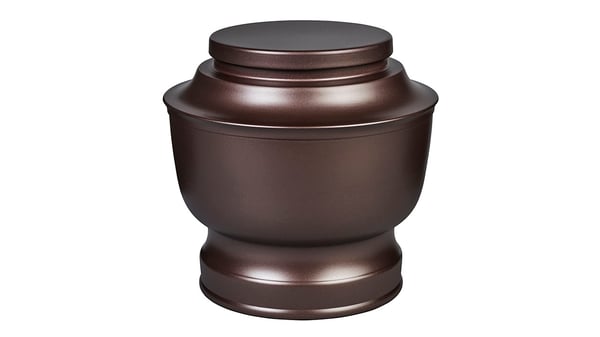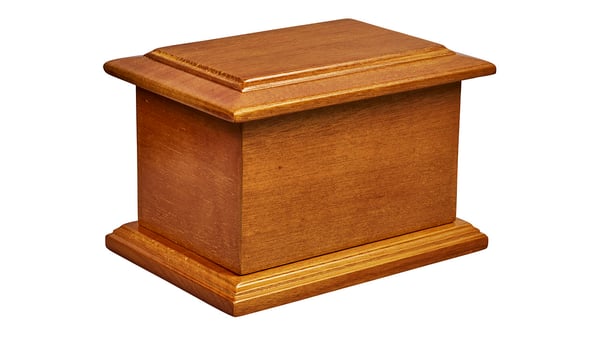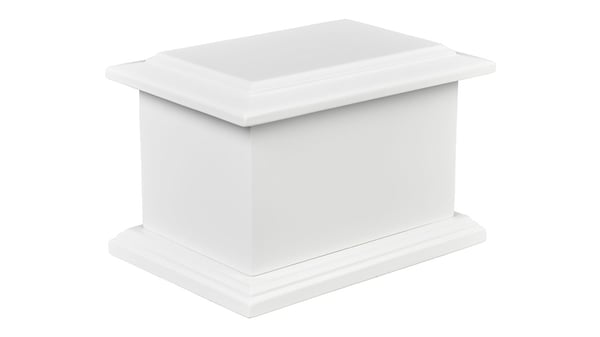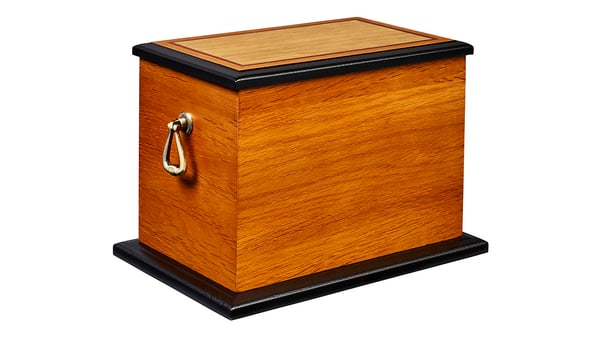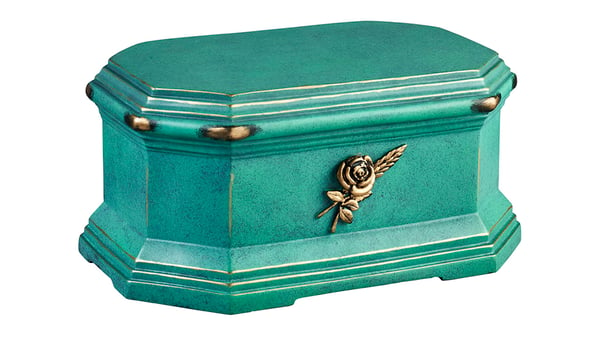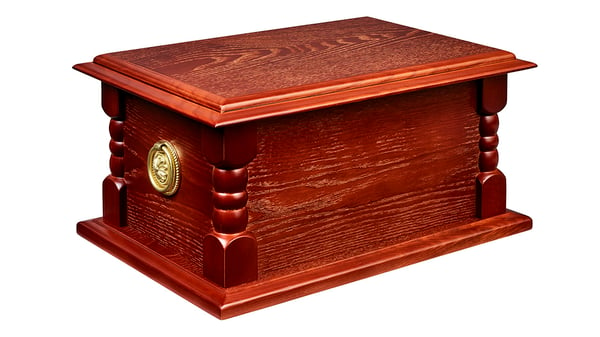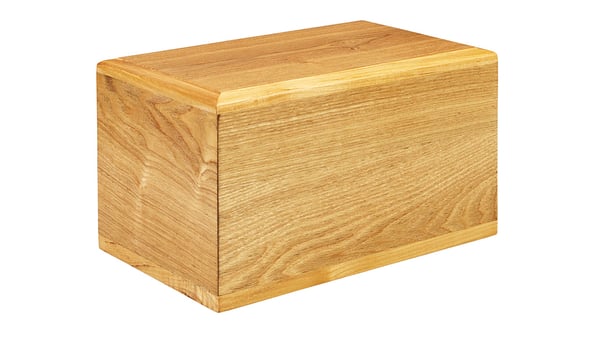 Additional Services
We are always available to discuss any of the additional services, along with their corresponding fees, that are listed here. You can visit our Clacton funeral home or, alternatively, call us on
Our Embalming Service

£98

Bringing the person who has died into care outside of normal office hours for a Simple Funeral

£134

Removal of Pacemaker

POA

Additional mileage charge for the delivery of ashes beyond a 20 mile radius from our premises

£0.50 (per mile)
---
Essential Third Party Costs
Additional costs need to be paid to various third parties in order for The Simple Funeral to take place. Find out what these are and why they are necessary:
Overview
We will help you create a dignified and personalised funeral.

Although our prices include all that we do to ensure you and your loved one receive the greatest of care, there are also third party costs, which are supplementary to the overall price.

Known as disbursements, these may include fees that are payable to the crematorium, the doctor and to the minister or celebrant. The payment of these external costs will be managed by us, along with the coordination of all the documents required to legally allow your loved one's funeral to proceed. Details of the third party costs are included upon your invoice.

Select a tab to find out more about some common disbursements. For information regarding the third party costs for a burial, call us on
Example Third Party Costs
Crematorium Cost

£750

Doctors Fees

£164

Minister Fee

£198

Total essential third party costs

£1,112
Crematoria Costs
When the time comes to say goodbye, it is important that you can remember your loved one, surrounded by family and friends, in a peaceful and reflective setting. If you do not currently have a preference for a crematorium in which to hold the service, the closest three are shown below. You can make your selection based on the allotted time offered, so you can be sure you have long enough to celebrate your loved one's life, and the seating capacity at the crematorium. We have listed the costs, length of service (includes time to enter and leave the crematorium), and seating availability, along with location and distance, so you can make an informed choice. If you wish to discuss a burial, please call us on
Data is correct as of May 2019. If any of the details above need to be updated, please email us at
insight@dignityuk.co.uk
.
Doctor's Fees
In the majority of cases, for a cremation to go ahead, it is necessary to obtain two certificates, each signed by a different doctor and confirming the cause of death. The doctors will charge a fee for this service, totalling £164 for the two certificates.

There are occasions when the two certificates are not needed, for instance if a coroner has reviewed the circumstances of your loved one's passing, but most of the time they are a legal requirement.

Although the doctor's fees are not included in the price, we will arrange for the payment of this third party cost, along with ensuring the documentation is present and correct, as part of our service to you.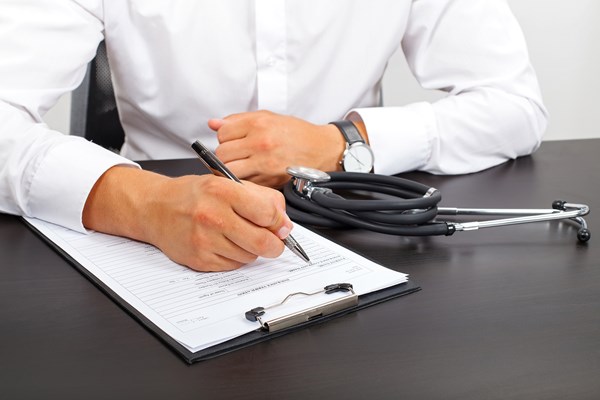 Minister or Celebrant
The cremation service will usually be taken by a funeral celebrant or a minister. They will address the congregation and, if requested, provide a eulogy to your loved one. Costs can vary, but as a reference we have listed the fee for a Church of England minister, which is £198.
We can offer guidance on choosing a suitable minister or celebrant to preside over your loved one's funeral service, but you are equally welcome to use somebody you already have a preference for.
Popular choices to lead a cremation service are:


Religious leaders


Civil celebrants


Humanist celebrants


Friends or members of the family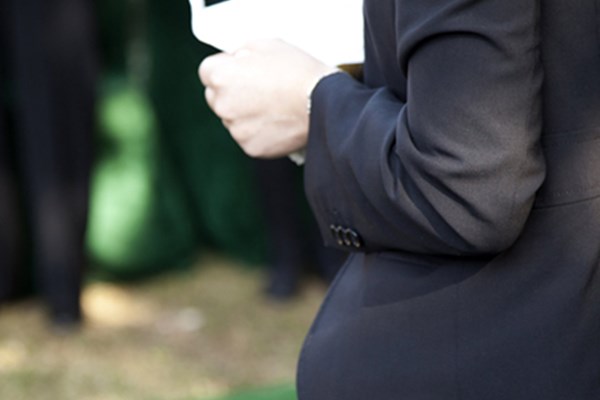 ---