Funeral Notices
Learn more about how a Funeral Notice can help you, or see our recent Funeral Notices from Francis Chappell & Sons Funeral Directors in Orpington.
Beckenham Funeral Notices
Here at Francis Chappell & Sons Funeral Directors, we offer a complimentary online Funeral Notice as part of all our funeral packages.

A Funeral Notice is a personalised webpage that you can easily share with family, friends and other funeral attendees in the lead up to the day of the funeral. Here, you can commemorate your loved one, as well as providing information and updates regarding the funeral arrangements.
A Funeral Notice can:
Provide a personalised space to commemorate your loved one
Share a favourite photograph of your loved one, with a written tribute
Let family and friends know when and where the funeral will be taking place
Keep guests up to date with any changes to the funeral arrangements
Arrange for floral arrangements to be delivered in time for the funeral
Allow friends and family to make a donation to a charity that was dear to your loved one
You can see some of our Funeral Notices in Beckenham below.

For further information, or to arrange a Funeral Notice for your loved one, please call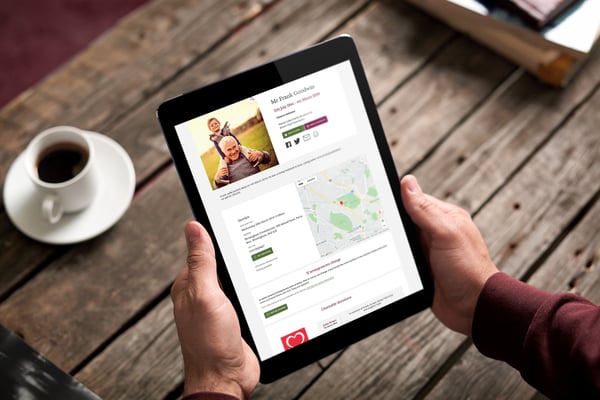 Funeral Notices Beckenham
No Funeral Notices found matching the entered term. Showing all Funeral Notices.
Recent Funeral Notices for Francis Chappell & Sons in Beckenham.