Our commitment
We value our people and understand, respect and value personal and cultural differences. Dignity is committed to high standards of employment practice and aims to encourage, retain and develop successful employees.
Managing and supporting our people
Dignity is a people business – with over 3,000 employees working across our operations from a wide range of backgrounds. Our success rests on having the right people, with the right skills and experience to deliver high quality services consistently.
Our business principles, Code of Conduct and core company values have helped us to create a distinctive Dignity culture.
What we focus on
Learning and development;
Recognising achievement;
Promoting diversity; and
Employee engagement.
Our people, culture and values
Our people come from the towns and cities they serve or from families that have been in the funeral profession for generations. They are all dedicated to delivering excellent client service.
Our Code of Conduct is reinforced by our Staff Handbook which is given to all new employees working in our business. This document ensures that we embed all new employees into the Dignity culture and reminds existing members of staff of the standards of behaviour and attitudes that are expected of them. During 2015, our HR policies have been reviewed, updated and developed in a format where they can be easily accessed by managers and employees on our intranet.
We adhere to the Bribery and Corruption Act of 2010 and have policies and procedures to minimise the risk of bribery.
Learning and development
Whether it's at the start of a career through our training initiatives; a flexible job for working parents or carers; or a second or third career for someone later in life; we offer job opportunities and support for people to fulfil their potential.
Dignity's investment in training enables our staff to provide our clients with the highest standards of service and care and to ensure that our rigorous procedures are followed in all branches. In 2015, Dignity continued to provide its staff with both relevant job training and tutoring for professional qualifications including the National Association of Funeral Directors (NAFD) Diploma in Funeral Directing; the London Association of Funeral Directors (LAFD) Certificate in Funeral Arranging & Administration and Membership of the British Institute of Embalming.
Reward and Recognition
In a competitive marketplace we recognise the importance of financially rewarding employees appropriately for the value they bring to the business. Dignity has rewarded its loyal staff with long service awards totalling approximately £0.2 million in 2015.
Promoting diversity
Dignity was awarded the Two Ticks Positive About Disability Symbol by Jobcentre Plus in 2014 and has continued to employ, retain and develop the abilities of disabled people. Dignity joined the Business Disability Forum in 2015, a not-for-profit organisation that encourages the fair treatment of disabled people in the workplace and their community.
Employee engagement
To achieve our business objectives we need engaged employees dedicated to our vision and values. Dignity has continued to publish a quarterly in-house magazine, 'Dignity Express', to enable the Company's Directors, managers and employees to communicate objectives and client satisfaction results, explain developments in the funeral sector and to share best practice and news in a cost effective manner.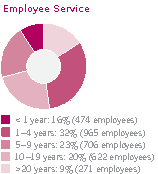 What we believe in
What we are here to do:
To help people at one of the most difficult times in their lives.
How we do this:
With compassion, respect, openness and care.
What we want to be:
The company that everyone knows they can trust in their time of need.
Training and development initiative
Promoting diversity