24/11/2009
West Midlands Call Centre placed 5th in UK for Customer Service
The Dignity Caring Funeral Services call centre in Sutton Coldfield has out-performed national competition in the UK's biggest ever call centre benchmarking exercise.
The Dignity team achieved fifth place with a score of 91.04% in a survey conducted by market research company GfK Mystery Shopping. The overall Top 50 average was 84%.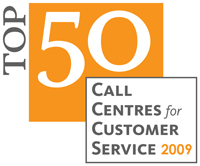 This study was commissioned by Call Centre Focus magazine (CCF) and is modelled on The Sunday Times 100 Best Companies To Work For Programme with the aim of raising customer service standards in the call centre industry.
The results were compiled by mystery callers made up of differing gender, age groups and background and the service tested for timeliness, ease of use, reliability, staff knowledge and personalisation. Each organisation received over 400 calls at different times of day and on varying days of the week with at least half the calls being made by actual customers.
"Everyone at Dignity was pleased to achieve a place in the Top 50 call centres in the UK when the initial results came out in September," said Susan Oakes, Head of Customer Services. "But we are absolutely delighted to achieve a place in the Top 5 ahead of many household names from financial services and retailing. We pride ourselves on outstanding customer service and provide our advisors with extensive training and coaching, so it's great that this has been recognised by the study."
The Dignity call centre employs 80 people from the West Midlands area and is part of Dignity Caring Funeral Services, a British company that has over 550 funeral homes and 30 crematoria in towns and cities across the UK.