14/05/2018
Dignity Raises Age of Free Funeral Policy to Under 18
- Carolyn Harris, MP welcomes Dignity's announcement -
Carolyn Harris, MP for Swansea East, today welcomed Dignity's announcement to increase the age limit on its long standing policy of free funerals for children. Dignity has increased the age limit from under 17 to under 18 bringing it into line with the recently announced Government Children's Funeral Fund.
Carolyn Harris has led the successful campaign for free child funerals since 2016. In April the Prime Minister announced the establishment of a Children's Funeral Fund, which will waive the costs of burials and cremations for the families of some 4,300 children who die each year in England.
Dignity, which has always offered free child funerals, strongly supports the principle of ensuring that the costs associated with a child's funeral are minimised or waived. Dignity has provided support to Ms Harris during her campaign which will result in local authorities offering free burials and cremations to under 18 year olds.
Carolyn Harris met with Dignity at one of its nationwide network of select funeral directors and crematoria, Graham J Sullivan Funeral Directors, in Swansea. Ms Harris is pictured alongside Andrew Judd, Director of Funeral Operations, and Graham Sullivan.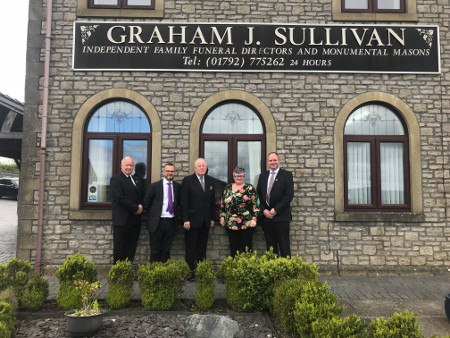 Carolyn Harris MP commented, "I am very grateful to Dignity for increasing the age limit on free funerals to children under 18. Thanks to funeral directors such as Dignity providing their services free of charge for under 18s, bereaved families in England and Wales have less financial worry at such an incredibly distressing time.
It is bittersweet to visit Graham J Sullivan Funeral Directors for today's announcement as they looked after my Martin with such care and respect and have continued to support me throughout my campaign for a Children's Funeral Fund."
Andrew Judd, Director of Funeral Operations, at Dignity said, "Carolyn Harris has fought tirelessly on this campaign and we are delighted that her efforts have paid off. Wales and now England are setting the rest of the UK a great example and we hope that Scotland and Northern Ireland follow suit.
Having always offered free child funerals Dignity has supported Carolyn's cause as it is closely aligned to our own. With the announcement of the Children's Funeral Fund we felt strongly that our own policy needed a slight amendment to reflect the age that has been announced.
Dignity is committed to helping the bereaved whilst they are dealing with the loss of a loved one, and doing so with compassion, respect, transparency and care. In the tragic circumstances where a parent loses a child, it is more important than ever that the funeral sector and local authorities work together to support bereaved families."
A child's funeral is a particularly distressing event for families. There are approximately 5,000 children's funerals conducted every year across the UK. Dignity's funeral directors undertake approximately 1,000 of these and are equipped to support families with compassion and kindness. Although the Government Child Funeral Fund means that no family will have to pay for a burial or cremation there are additional costs such as those for a minister, funeral director and doctor's fees, which may apply. Dignity waives the funeral director costs in these circumstances. Its free service for children under the age of 18 includes:
The provision of Dignity's standard funeral service without charge including transporting and caring for the deceased, the provision of a basic coffin and hearse. This includes funeral director fees.
In the case of a cremation conducted at a Dignity owned crematoria, a full service is offered without charge including use of the chapel, provision of music, the cremation service and administration. Dignity does not place restrictions on the time of day it can take place.