As an industry leader we are constantly looking for ways to improve our customer service and the impact we have in the communities we serve. Get the latest news on our operations and the initiatives that help us make a difference.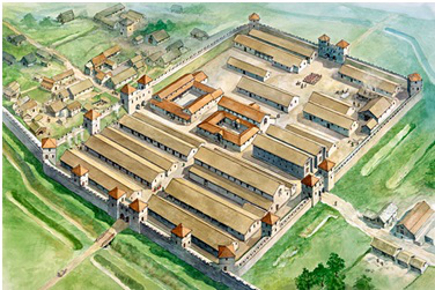 A Roman military base has been unearthed at Exeter & Devon Crematorium that possibly dates back as far as 1st Century AD.
Archaeological discoveries at the Exeter & Devon Crematorium
At the beginning of April works began on an overflow car park to cater for the increasing number of people that are attending funerals at the site. During preparatory groundwork's by local firm, JTT Construction, evidence for two Roman military buildings were identified and excavated by experts at AC Archaeology.
The buildings proved to be of classic military type and were constructed by digging narrow trenches with horizontal timbers inserted, supported by upright posts. These are divided into a series of small rectangular rooms and were perhaps small barrack blocks used by the Roman Army during their conquest of the South West in the second half of the 1st Century.
The buildings have been discovered next to an earlier structure, which is a 'roundhouse' that dates from the Late Iron Age period. This house could have been lived in when the Roman army invaded and, by constructing their buildings so close to this, it may have been a deliberate attempt to subdue the local native population.
Other recent discoveries in an around Exeter, have led archaeologists and historians to believe that the complex of Roman military sites in the area was at the time, the largest in Britain.
It would have played a critical role in their successful campaign, in particular the distribution and supply of imported goods from the French ports to the Roman army stationed in South West Britain.
Liz Govier, leading the AC archaeology team
"As an Archaeologist, this is a very exciting find and is extremely important in teaching us about the history of Exeter. What is fascinating is that the military buildings are located outside the perimeter of the adjacent supply base, so it will be interesting to find out what role they played and if they pre-date its construction."
Upon completion, the overflow car park will consist of 73 additional parking spaces. The existing car park will also be relined with disabled access being created into the Memorial Chapel.