As an industry leader we are constantly looking for ways to improve our customer service and the impact we have in the communities we serve. Get the latest news on our operations and the initiatives that help us make a difference.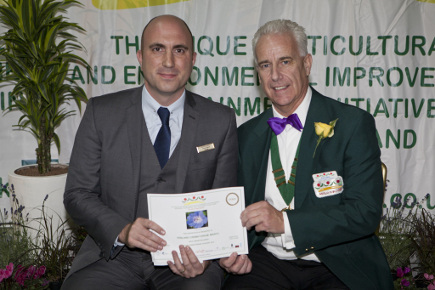 The manager of Fenland Crematorium, Chris Black, (left) receives the Gold Standard Award.
Sweet smell of success for Dignity crematoria
Three Dignity crematoria have come up smelling of roses after achieving horticultural awards in local In Bloom competitions.
This summer, Fenland Crematorium in Cambridgeshire entered the Crematoria category of the Anglia in Bloom competition and was awarded Gold Standard for its entry.
On Thursday 17 September, Chris Black, crematorium manager, attended the Anglia in Bloom awards ceremony in Ware, Hertfordshire where he was presented with the certificate.
"This award of Gold Standard is the highest ever awarded to an establishment representing the town of March in 19 years of Anglia in Bloom," explained Chris. "The local committee was delighted for us and I am extremely pleased and proud that the Crematorium has been acknowledged externally for the hard work the team have put into the site since we opened."
The Crematorium was mentioned in the summary for the March in Bloom overall entry where it stated, 'Fenland Crematorium on the outside of town is extremely well kept; the landscaping is developing well considering it is only five years old'. Fenland was also mentioned in the Areas of Achievement summary.
The grounds team at Lancaster & Morecambe Crematorium are no strangers to winning gardening awards but they still enjoy receiving them! In October the crematorium received the prestigious Lancashire in Bloom Gold Standard for the fourth successive year.
"The team at Lancaster & Morecambe are very dedicated to providing bereaved families and visitors with a beautiful and relaxing place to remember their love ones," said regional manager, David Baxter. "Every time I visit I'm impressed with the maintenance and development of the grounds and I'm very proud that the team have won the award every time they've entered."
To complete the hat-trick of In Bloom awards, Chichester Crematoriumentered the competition for the fourth consecutive year. In previous years, the crematorium has been awarded Silver and this year they went one better and were presented with Silver Gilt.
Paul May, crematorium manager, said: "We use the competition to promote the crematorium and to measure ourselves against sites outside of the Dignity Group. Although we didn't achieve first place, the winner of the cemetery and crematoria category was also awarded Silver Gilt."
"This summer every one of our crematoria grounds looked absolutely stunning," said Steve Gant, general manager for crematoria. "The horticultural skills of our gardeners are first class and clearly demonstrating an understanding of what our client's want."