As an industry leader we are constantly looking for ways to improve our customer service and the impact we have in the communities we serve. Get the latest news on our operations and the initiatives that help us make a difference.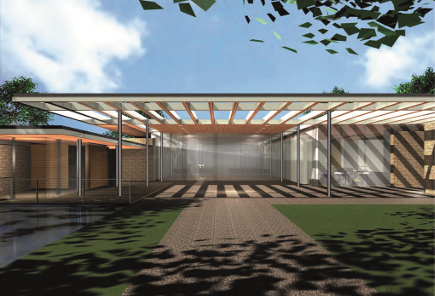 An artist's impression of Trent Valley Crematorium by architects, Howl Associates.
New Dignity crematorium to be developed
In the first quarter of 2016, work will begin on the development of Trent Valley Crematorium in Derbyshire. The site is located on land between Aston-on-Trent, Thulston and Chellaston and is dissected by the A6 and A50 transport links.
The location provides the ideal setting for a new crematorium which will help meet the needs of the surrounding communities in terms of providing cremation and memorial services whilst protecting the character of the landscape. Dignity's plans will provide a state of the art, single Chapel facility with carefully landscaped gardens that complement the existing countryside including an avenue of new trees, a Memorial Park, a wild flower meadow and include the planting of other native trees and shrubs whilst maintaining existing hedgerows.
The building itself will be light and welcoming with a large covered waiting area to the main entrance. On arrival the congregation moves through a lobby space into the Chapel itself with views across a pool and gardens. At the end of the service, mourners will leave via a covered area surrounded by a water feature and there are pedestrian links that enable visitors to walk around the Memorial Gardens. The latest cremator technology will be installed incorporating mercury abatement systems that comply with the environmental legislation.
The focus for the new crematorium will very much be on superior client service and visitor experience with the site having capacity for six funeral services per day at hourly intervals. Trent Valley Crematorium is scheduled to open in the first quarter of 2017.