We are committed to providing people with the highest standards of service and care and to helping our clients every step of the way when they need us.
Our promise
What we are here to do
To help people at one of the most difficult times in their life.
How we do this
With compassion, respect, openness and care.
What we want to be
The company everyone knows they can trust in their time of need.
At every step of the way we:
Are compassionate, respectful and caring
Spend as much time as a client needs
Provide clear and straightforward information that enables clients to make informed choices
Are transparent about our fees and there are no hidden extras
Pay attention to detail
Keep in contact.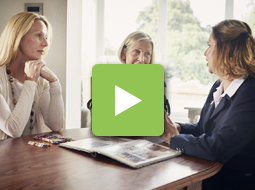 Close
Dignity with Distinction
Life with those you love is deeply personal. At Dignity, we believe your goodbye should be no different.
Video: Dignity with Distinction
Dignity with Distinction
As a collection of the country's finest funeral directors, we are honoured to serve the local communities we are a part of, with expertise and uncompromising compassion.