A guide to burying ashes
CATEGORIES
Organising a funeral
Are you considering burying the ashes of a loved one, but are unsure of your options? Are you looking for more information on burying ashes in a graveyard or wondering about costs? Perhaps you believe that a loved one may pass away soon and you need guidance on what the next steps are? It's not something anyone wants to think about, however, it is important to understand your options.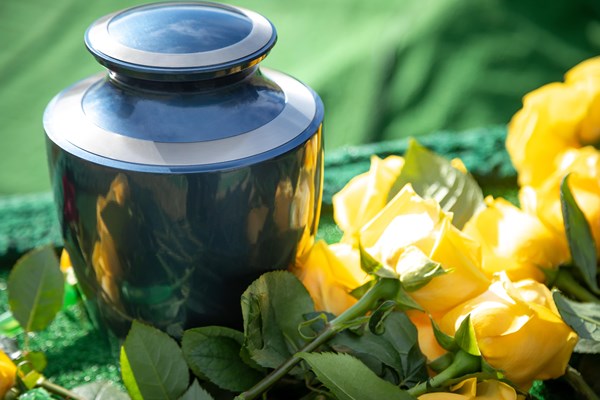 Knowing what you are able to do with regards to burying ashes, and where you're able to do it in the UK in line with certain laws, can be confusing, but our helpful guide will take you through your choices.
Whilst many people choose to scatter the ashes of a loved one in a special place, burying ashes in a graveyard is a popular alternative and can be a fairly straightforward process. This guide will explore all the options you have if you're considering burying ashes from a cremation.
Burying Ashes in a Cemetery
It's common to bury ashes in a grave; whether it's in a cemetery, churchyard, crematoria garden, or woodland burial ground. When choosing how to bury ashes at a cemetery, you can opt to bury them directly in the ground or intern them into an urn before placing them in a burial plot.
If you're burying ashes of your loved one in a grave, you'll need to obtain a Certificate of Authority for Burial, which you can get from your local registry office. Your funeral director will need to fill out the appropriate form and return it to the register office within four days. 
How to bury ashes in a cemetery or churchyard
If you are thinking of burying ashes in a graveyard or burying ashes in a cemetery or churchyard, you'll be required to sign a burial plot application form which is typically issued by your local council or cemetery. Once you've signed this form, you'll need to purchase an 'exclusive right of burial'. This is typically purchased for a period of 75 years and will have certain conditions attached to it, depending on what type of grave it is.
If your family already owns the exclusive rights of burial for a grave, and you can produce either the deed of exclusive rights of burial or evidence that you are the proper person to have the burial rights, then arrangements can be made for an internment to take place.
Your local Dignity Funeral Director will be on hand to help you check local regulations and availability when choosing a grave or burial plot, also known as a 'cemetery plot', for your loved one.
If you would like burial plots that are next to each other, you can enquire about purchasing or reserving multiple plots. If this is the case, please speak to the local authorities about buying a plot and to talk through their specific rules and regulations.
Many woodland burial sites also offer plots for burying ashes, however, if this is your preferred option then you may need to purchase a biodegradable urn.
Burying Ashes in Your Garden or on Private Land
In the UK, burying ashes in your garden or on private land is legal if you have the landowner's permission to do so. Burying ashes of your loved ones in your garden can be very personal and is the perfect alternative to a traditional burial if you want to keep the ashes close by.
It's important to be aware that if you sell your home, the new owners are not obligated to allow you to visit the burial spot as you will no longer own the land.
Burying Ashes in a Garden of Remembrance
Most cemeteries and crematoria in the UK have gardens of remembrance for the burial of ashes. A range of memorials are available to help remember your loved one; these include plaques, benches and trees. There's also the option of an above-ground burial for cremation ashes. A columbarium is a type of mausoleum built to contain cremation urns and can be found in some cemeteries and crematoria across the UK.
How Much Does it Cost to Bury Ashes in the UK?
The cost of burying ashes varies depending on what options you choose. On average, burial charges in the UK add up to £1,797. These charges cover the exclusive right of burial and the interment fee, which is for the preparation of the burial plot or grave.
Burial charges vary significantly across the UK, so it's best to contact your local cemetery to find out how much a burial plot will cost. If your chosen cemetery is owned by the local council, you may be able to find a price list on their website.
---