Non-religious funerals
CATEGORIES
Organising a funeral
In years gone by, religion was an expected part of any funeral. However, many people are now opting to move away from the more traditional religious funerals, instead choosing to focus on remembering the person and celebrating their life. As an alternative to religious funerals, a non-religious funeral service allows family and friends to pay tribute to their loved one without needing to include readings from religious texts, hymns or prayers


How to arrange a non-religious funeral service
Whilst non-religious funerals don't adhere to any particular traditions or customs, they typically follow a similar format to traditional religious services.
Taking time to reflect on the individual and their life will help you to arrange a fitting service. Your loved one may have left behind formal instructions as part of their will or could have purchased a Prepaid Funeral Plan and documented their final wishes. If they didn't make their wishes known before they died, it may be worth asking other family members and friends if they have any recollections about the individual's beliefs and attitudes towards funerals. 
Your funeral director will have had experience of dealing with both religious and non-religious funerals. They will be able to offer advice and suggestions and help to recommend celebrants.


Choosing a type of funeral
If your loved one didn't have any religious beliefs then your choice of funeral won't be limited as it may be with various religions and cultures. Whether you choose a burial or cremation, your local Dignity Funeral Director can cater for any type of funeral and will be there to make all of the arrangements on your behalf.

Who can officiate at a non-religious funeral?
There are a number of options if you decide to arrange a non-religious funeral for a loved one. Funeral celebrants can conduct both religious and non-religious funerals, and they will often help you create the order of service. If you would like to make the funeral even more personal, you could ask a family member or close friend of the deceased to lead the service.
Find your nearest funeral celebrant.
Humanist funerals
A humanist celebrant is someone who writes and conducts humanist (non-religious) ceremonies. The aim of a humanist funeral is to focus on the person who had died and the life they led – not on the idea of an afterlife or on religion. Humanist Ceremonies™ is a network of trained and accredited humanist celebrants, from all walks of life, who will work closely with families to deliver a service that focuses on their loved one.
Civil funeral ceremonies
A civil funeral is based on the wishes and values of the deceased and their family rather than the beliefs of the person conducting the funeral. In the same way as humanist funerals, civil funerals keep the focus of the service on the person who has died, with a style and tone that fits their personality and their memory.
The Institute of Civil Funerals offers advice and support for finding a celebrant.
Venues for a non-religious funeral
A non-religious funeral service can be held at any of the following venues:
Crematorium

Cemetery chapel

Woodland burial ground

Community centre

Hotel

Your own home
If you are holding a wake after the funeral service, there are a number of venues to choose from. Some of the most popular locations include pubs, social clubs, sports clubs, and your own home. You may need to book the venue in advance and let guests know where it is being held and at what time.

Poems and readings for a non-religious funeral
You may wish to choose a non-religious funeral poem to be read at your loved one's funeral. Some of the most popular non-religious verses include:
Funeral Blues

Because I Love You So

Afterglow

One At Rest

To Those Whom I Love & Those Who Love Me

I'm There Inside Your Heart
View our full list of non-religious funeral readings.

Non-religious funeral songs
As funerals become more tailored to celebrate the life of the deceased, many families opt for modern songs to be played during the funeral service. It can be a very personal choice to make, though there is no right or wrong decision.
Some of the most popular songs for a non-religious funeral include:
Angels – Robbie Williams

Tears in Heaven – Eric Clapton

You Raise Me Up – Josh Groban

My Way – Frank Sinatra

Supermarket Flowers – Ed Sheeran

In the Arms of an Angel – Sarah McLachlan
View our full list of popular funeral songs.

Personalising a non-religious funeral
Choosing a non-religious funeral will give you the flexibility to personalise it in whatever way you see fit. There are number of choices you can make to help remember your loved one's life story in a unique way.
Alternative funeral transport
An alternative hearse or mode of transport can be a fitting tribute for someone who has passed away. It can help make your loved one's final journey even more personal. Whether you choose a horse-drawn hearse, campervan, or even a fire-engine, your local Dignity Funeral Director will accommodate all of these unique requests.
Colourful and picture coffins
Colourful coffins and picture coffins are a relatively new trend. You may wish to take inspiration from a loved one's favourite place to visit, their favourite sport, or even a personal photograph.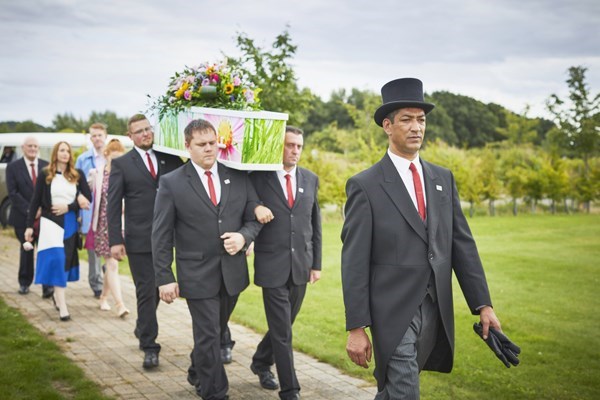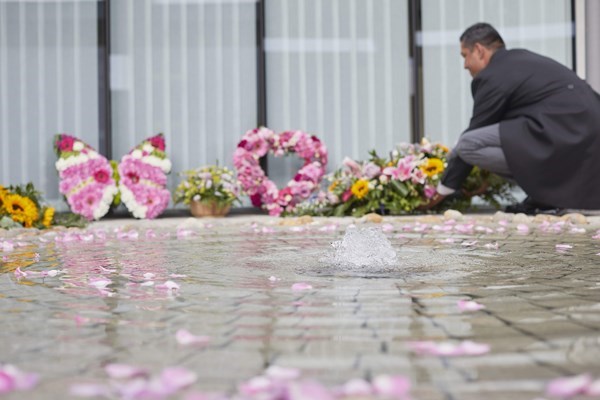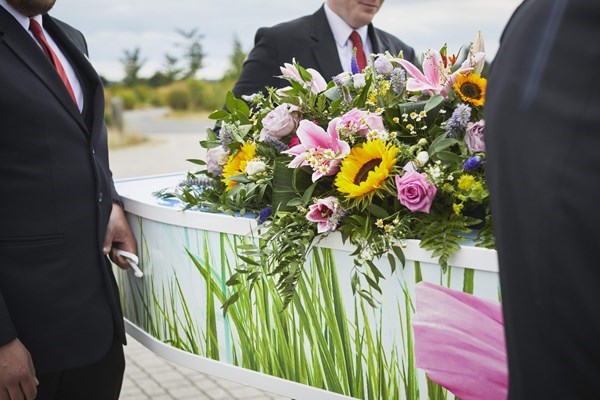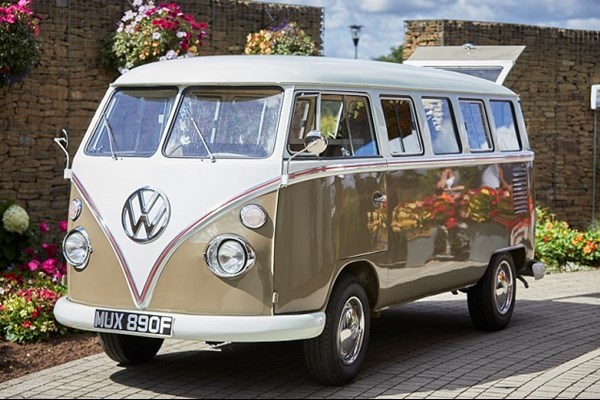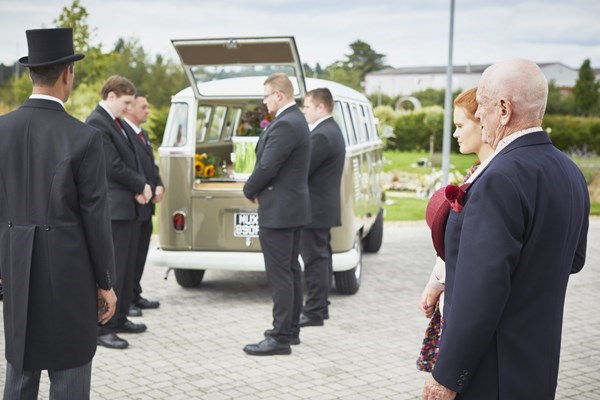 Funeral dress code
When deciding on the dress code for your loved one's funeral, you don't have to conform to traditional funeral attire such as black formal clothing. Instead, you could encourage guests to wear vibrant colours or simply stick to one colour which may have been your loved one's favourite.
Charitable donations
You may wish to remember the life of your loved one with charitable donations in lieu of flowers. There may have been a specific charity that was important to the deceased, so make sure you take this into account when choosing where the money will be donated to.
---
Arrange a non-religious funeral for your loved one
Your local Dignity Funeral Director can cater for any type of funeral. We will help arrange a fitting non-religious funeral service for your loved one which best commemorates their life.
---