It is usual for people to be unsure of what to do in the immediate aftermath of a bereavement. We take you through the initial steps and provide advice on other things you may need to think about when someone you know dies.
Registering a death
In most cases you will need to register the death within five days and it is best to visit the register office in the area in which the person died. This will help avoid delays getting the necessary documents. The following people can register a death:
Any relative of the person who has died
Any person present at the death
A person who lives in the house where the person died
The person arranging the funeral, but not a funeral director.
To register the death you need to have a simple interview with the registrar at the register office. You will need to give the registrar:
The full name of the person who has died
Their full address
Their date of birth
Details of where and when the person died
Their occupation (if any).
If the person who has died is a married woman, you will need to give her maiden name and her husband's full name and occupation.
Documents and certification
You will need to give the registrar:
Certificate of Cause of Death (signed by a doctor).
You should also bring the following documents where applicable:
Birth Certificate
Marriage/Civil Partnership Certificates
NHS Medical Card.
At the register office the registrar will issue you with:
A Certificate for Burial or Cremation (known as a green form), which you should give to your funeral director as soon as possible
A Certificate of Registration of Death, which you should fill in and send to the social security office for the area where the person died.
You can buy copies of the Death Certificate (sometimes known as the Entry of Death form) from the registrar for a small fee, which varies from region to region. You will need these for official purposes such as closing bank accounts and pension schemes.
What if the coroner is involved?
Under certain circumstances the death must be reported by the doctor, hospital or registrar to the coroner (England and Wales) or procurator fiscal (Scotland).
This means that there will be a post mortem or inquest and you may have to delay your plans for the funeral.
In this case there will be no Cause of Death Certificate. The death will be registered once the coroner has made a decision. The time this takes will vary.
The role of the coroner
Download our brochure (PDF 0.33Mb) for further information.
Caring for the deceased – looking after your loved one
Once you have entrusted the deceased to us we will take care of them with respect and professionalism. Your loved one will be taken from their place of death to our specialist mortuary before being transported by private ambulance to the local funeral home. If you prefer they can rest at home or in church, if this is allowed.
We are able to provide an embalming service if required. Embalming delays the natural processes that take place after death and whilst not essential we think it is an important consideration if you want to visit the person in the chapel of rest. We wash and dress everyone in our care and some people like to provide us with items such as a favourite outfit.
Our funeral directors will carry out your wishes carefully and respectfully but, if you would like to help us look after your loved one, please let us know.
Spending time with the deceased
Some people find it helps to spend time with the person who has died and like to bring a small gift or photograph to put in the coffin. Others find it upsetting to see someone they loved who is now dead. It's a personal choice and we can talk this through with you.
Telling others about the death
You may want to put an announcement in a local or national newspaper to tell people about the death and the details of the funeral. We can help you with drafting and sending a death announcement to a newspaper.
After the funeral you can also place a thank you message in a newspaper to thank those who attended and sent donations or flowers. We can keep copies for you and laminate them to protect them.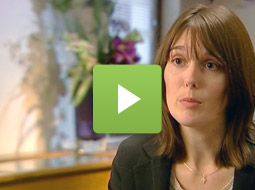 Close
Building Relationships
Communication is at the heart of how we work.
Video: Building Relationships (4:35m)
Building Relationships
We work closely with clients to ensure they have everything they need at each stage of the funeral process.