A day in the life of a funeral director
Ask anyone who works with people to describe a typical day and you'll get the same answer - "there isn't one, no day is the same." The same can be said for funeral directors.
While death is often expected, no one can predict exactly when it might happen, or how families will react. Funeral directors and their teams need to be responsive to the needs of their clients, day and night. 
Emma Sparre Slater, funeral director at Francis Chappell & Sons, explains "Being a funeral director is a full-time job - and by full-time I mean 24/7. Even if I am officially off-duty, out shopping, or even having a drink at the pub or a meal in a restaurant, the people around me are my community - I might have conducted a funeral for them last week, or last year, or they might call on me in the future - it is important to be aware of that at all times. 
We also take turns at being on-call, so could get called on at any time of day. For example, if someone dies at home, then we'd attend their home to collect them and to meet the family and let them know the next steps. We would do that whether it was 3pm or 3am."
It sounds like a demanding job, yet not one of the funeral directors at Dignity describe it that way. While there is no average day, per se, Rachael Barber at Gordon Barber talks us through the kind of things that a funeral director might get involved with on a day to day basis.


How does an average day start? 
The day would start by checking if there were any enquiries that came in during the night. There might be messages from families we're already working with who need us to give them a call back to discuss details, or from hospitals or care homes who have notified us of people that need to be brought into our care. 
If we haven't been part of the on-call team the previous night, we'll also check to see whether there is anyone who has been brought into our care over-night. If there has been, there will be paperwork to prepare and families to contact to talk about arrangements and next steps. 


Initial contact with families 
Arguably one of the most important parts of the job for any funeral director is regular contact with the family. "From our very first contact with the family, we are there to reassure them, to ease their burden at a difficult time and to give them the confidence and support they need to make decisions about the funeral", explains Rachael. 
The first meeting may well take place very shortly after their loved one has died, when we go to collect them and bring them into our care. We do explain the process and next steps, but we recognise that shock and grief means they won't always retain the information, so we set up a separate meeting to arrange the funeral. 


Making funeral arrangements 
A great deal of work goes into planning a funeral and making sure that everything happens where, when and how it should. This process usually begins at the first arrangement meeting, when we'll talk to the family about their loved one, find out about them, what they liked, their interests and their personality. This helps us to understand if there were any final wishes and to make sure that the funeral is tailored to the family's needs. 
"Getting to know and understand the family and their loved one is really important. By taking the time to understand their personalities, we can make recommendations about what they might have liked, " explains Rachael. 
Funeral director Philip Smyth agrees, "I worked with a family once whose young daughter had died. They wanted a horse-drawn carriage and, while chatting, it turned out she had a love of unicorns. Instead of a standard white horse-drawn carriage, I arranged to have the carriage dressed in pink and the horses dressed as unicorns. Little touches like that can make a huge difference to the day and can only happen if we really get to know the people we are supporting."
As well as the personal side of things, we walk the family through the administration. There's paperwork that needs to be completed and, with everything else going on, we help where we can to make sure that the family is aware of what is required and has the support they required to get it done.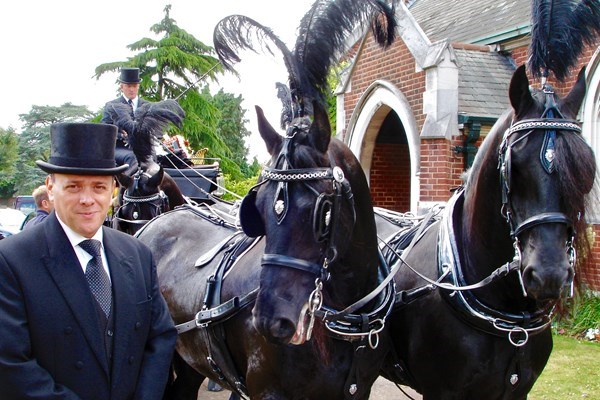 Philip Smyth, manager and funeral director, JH Kenyon
---

Planning, planning and more planning 
Funeral directors and the arrangers that work with them are responsible for making sure that everything required for the funeral - from the flowers to the venue, the cars to the order of service - is so carefully and meticulously arranged that nothing can possibly go wrong. To do this, we spend a lot of time talking to suppliers, sourcing unusual requests, making sure all of the legal boxes are ticked and confirming that everything the family requires will be in the right place at the right time.
Helen Griffiths, funeral director and area manager based at Hazel and Sons, explains, "I arranged a funeral once for a gentleman who had been a lorry driver. His family wanted his body to be carried on the back of his lorry down a stretch of motorway that he had frequently driven down. It seems a simple enough request, but there is a great deal that goes on behind the scenes - including things like speaking to the Highways Agency and making physical adjustments to the vehicle - to make this happen for them." 
Duncan Mason, funeral director and area manager based at T J Davies & Sons adds, "There's a lot that has to happen that people wouldn't even think of. As well as the day to day planning and making sure everything happens as it should, simple things like knowing what time schools finish or when the there will be road closures are little things that can make a huge difference to the day." 


Taking someone into our care 
Inevitably, we'll also have to manage the process of taking the person who has died into our care - this might involve arranging to pick someone up from home, or from a hospital or care home. We have a 'care of the deceased' process, which ensures that every single person we deal with is treated in the same way, with the same care, attention and respect. 
We collect them and bring them into our care, all the time ensuring that the person, their personal effects and their dignity are cared for to the best possible standard. We then work with the family, our team of embalmers, funeral arrangers and funeral operatives to ensure that the person is cared for in line with the family's wishes.
Find out more about how we take someone into our care. 

Attending a funeral
"I think this is the bit that everyone knows us for," says Duncan, who has been a funeral director for almost 40 years. As well as all of the work behind the scenes to care for the deceased, the family and make the arrangements for the funeral itself, funeral directors also attend the funerals themselves. On the day, the role includes making sure that everyone - the deceased, their family and the rest of the mourners - are in the right place at the right time. 
Emma, a training manager in South London, adds "Lots of people are familiar with the theatre of funerals - by that I mean the traditional image of a funeral director walking in front of the cars, bearing a coffin or wearing a top hat and tails. But, on the day, there's also a lot of logistics to oversee. As well as being completely unflappable, calm and in control, we also have to be prepared to offer crowd management and have an awareness of the actions and feelings of others at a very emotionally charged time." 


After the service 
Steve Thomson, funeral director at Gordon & Watson in Aberdeen sums up the end of a busy day perfectly. "After the service, we return to the funeral home and I assist the drivers in cleaning the vehicles. Once everything is tidied away, I will go and put on the kettle for a cup of tea (priorities) and report back to the arranger on how I feel things went. This will help them to prepare their call to the client to ensure they feel that we carried out their wishes to the very best of our ability." 


Working with the community
As well as the day to day role of caring for bereaved families and their loved ones, funeral directors also offer a service to the wider community. Many Dignity Funeral Directors will work with local care homes to train staff and reassure them about what happens to the people they care for, arrange mock funerals to train the clergy, or work with other public bodies to offer help and advice about caring for the deceased or recently bereaved.