Memorial plaques
Memorial plaques are a long-lasting way to commemorate a person after they pass away. With many types of plaques to choose from, this guide will explain the process of selecting a memorial plaque for your loved one.


What is a memorial plaque?
A memorial plaque, or commemorative plaque, is a plate of metal or stone that is attached to a fixture to honour the life of someone who has passed.
The plaque will typically have inscriptions including the name of your loved one, as well as a personal or sentimental message. Plaques are frequently an alternative to a headstone or cremation memorial or could be designed specifically as plaques for graves.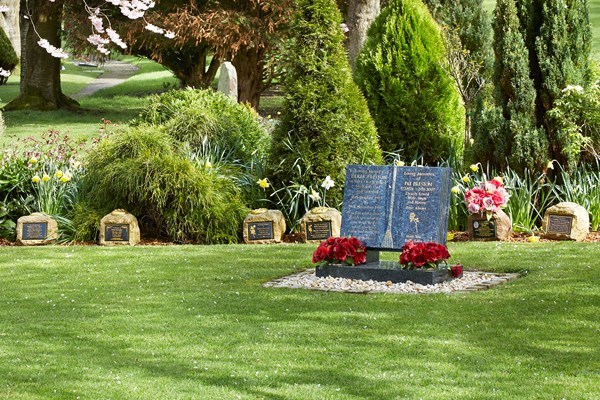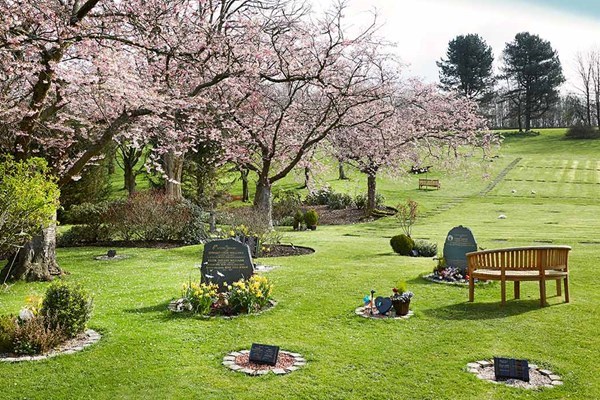 Where to place a memorial plaque
When choosing a memorial plaque, it is important to consider where the plaque will be located and if it will be a standalone piece or accompany another memorial, such as a memorial bench or memorial tree.
Many people choose to have a memorial plaque at a sentimental location. Plaques can be fixed to:
Urns or cremation memorials: Those who choose a cremation funeral may wish to have a memorial plaque either on a decorative urn or on a cremation memorial.


Trees dedicated to the life of your loved one: When planting a tree in memory of a loved one, many people opt to include a tree stake with details of the person they are commemorating. Larger memorial plaques can be fitted to plaque holders.


Sponsored benches or statues: Memorial benches don't always bear inscriptions, but many people choose to add a small memorial plaque with a short inscription.


The walls of churches, crematoria, or other places of rest: Often used for remembering the fallen, church wall plaques are a unique way to commemorate a loved one.


Theatre seats: An increasingly popular choice, you may opt to dedicate a seat in a theatre to the memory of your loved one. This usually includes a small memorial plaque bearing their name and details.


On a grave or memorial stone: While gravestones usually bear an inscription straight into the stone, there is also a wide range of plaques for graves, which can be used on cremation memorials or those looking for a more understated choice.


A woodland burial site: Memorial plaques in woodland burial sites often have to made from wood, to fit in with the requirements of a low impact or eco-burial.


Alternatively, a memorial plaque can be affixed to a stake in the ground and placed in a private garden, graveyard or public space. Once you have decided on the location, you should make sure you have the permission of the landowner (which may be a local council) and that there are no regulations prohibiting memorial plaques being placed there.


How to choose a memorial plaque
Once you've decided on a location for the memorial plaque, you'll need to think about what it will look like, including:
Personalising a memorial plaque
A memorial plaque is personal to you and your loved one. They are typically engraved with the name of the person who has passed, as well as their date of birth and death. You may have the option to add a personal message, symbol, or image.
If you would like further advice on what to put on a memorial plaque or have questions about personalisation, your local Funeral Director can will be able to help.


Memorial plaque designs
Families often come together to choose a plaque design that best commemorates the life of their loved one. Memorial plaques are available in different shapes, sizes, and colours, from traditional to modern designs.
Some of the most popular shapes for memorial plaques include:
Oval – An oval shape gives you more room to add longer inscriptions. The oval is said to represent eternal love, harmony and peace.


Circle –A smaller area for text to be added, the circle shape symbolises protection, nurture and for the religious, the union between heaven and Earth.


Rectangular – A rectangular plaque offers you enough room to add different lengths of text as well as images or shapes. Easy to mount on many settings, the rectangle represents a comforting dependability, integrity and balance.


Memorial plaque wording
Memorial plaques are a very personal thing, so choosing an inscription can take time. The key things to include on the memorial plaque wording are the name and details of your loved one. Our guides on what to put on a headstone and funeral poems may also provide some inspiration. When deciding what to put on a memorial plaque, it may also help to think about:
Your favourite memory of them

The impact they had on others

Their likes and dislikes

Highlights of their life story

How would they like to be remembered?

A favourite poem, verse or pastime


Material for memorial plaques
Bronze, brass and stainless steel memorial plaques are all popular choices because of their durable nature. Choosing a metal plaque allows you to achieve a polished, special finish, but you'll also want it to stand the test of time, so it's important to choose a suitable metal.
Bronze: A popular choice due to being low maintenance and such a strong material. Bronze is also resistant to corrosion from rain and snow.


Brass: An alloy of copper, brass will look very similar to bronze in colour. Brass is also a softer metal, so should be finished with a protective lacquer coating.


Stainless steel: Strong enough to withstand harsh weather conditions and a less expensive choice, stainless steel is popular for coastal memorial plaques.


Aluminium: Using the latest technology, full colour memorial plaques can be created from aluminium, allowing you to include a photo of your loved one in the design.


Cast Metal: While the majority of plaques are usually engraved sheet metal, it is also possible to create cast metal memorials.


Alternatives to metal memorial plaques
Granite: An alternative to metal, granite memorial plaques are easy to clean and maintain. If you choose granite, you aren't limited to grey and white colours in the design. There are many colours available to you, including granite with a subtle sparkle.

Ask your local Funeral Director about the types of granite they can provide for the plaque.
Wood: Ideal for use in woodland burial sites, wooden memorial plaques can be created and engraved from a variety of different woods, each with its own unique properties. Plaques for graves in eco-burial sites will be subject to specific site rules, please check before ordering your plaque.
Choose a memorial plaque in memory of your loved one
If you would like to commemorate the memory of your loved one with a memorial plaque, please contact your local Funeral Director for further help and advice.