Funeral Notices
We understand that there is a lot to think about when arranging a loved one's funeral; letting family and friends know about the arrangements can be quite difficult and time consuming. We'll explain how Funeral Notices work, why people choose to have them and how they can make the process of announcing the passing of a loved one a little easier.


Making a death announcement
Letting people know that a loved one has passed away isn't an easy task. That's why we offer a complementary online Funeral Notice service providing our clients with a simple and respectful way of sharing the details of their loved one's funeral with family and friends.


What is a Funeral Notice?
A Funeral Notice is a personalised web page commemorating your loved one's life. It provides all the essential details of the funeral in one convenient place. For those attending the funeral, a Funeral Notice makes it quick and easy to find out when it is taking place and where it is being held.
You can collect online donations for a special charity and provide the option for people to send flowers. This is helpful for both those attending as well as those who cannot make it on the day. Family and friends can choose to receive notifications using their email address, making sure they are kept up-to-date if any of the arrangements were to change.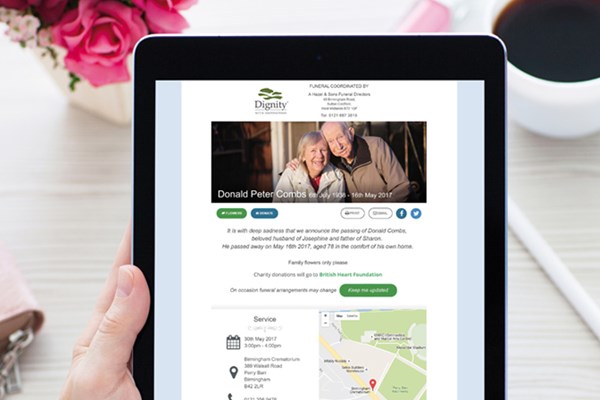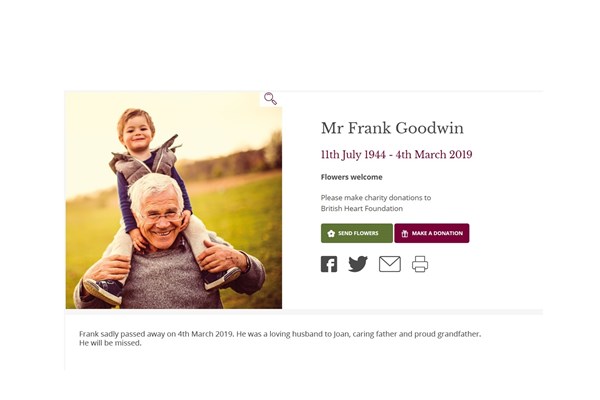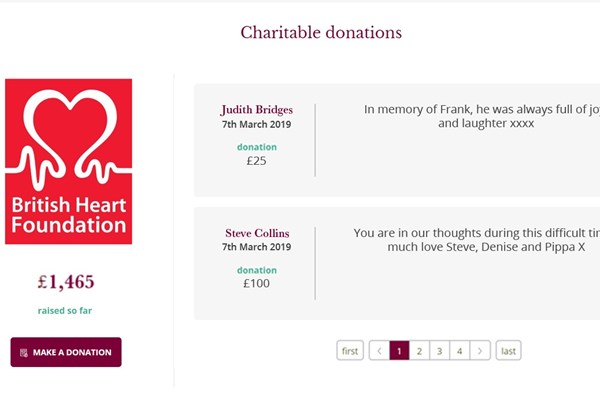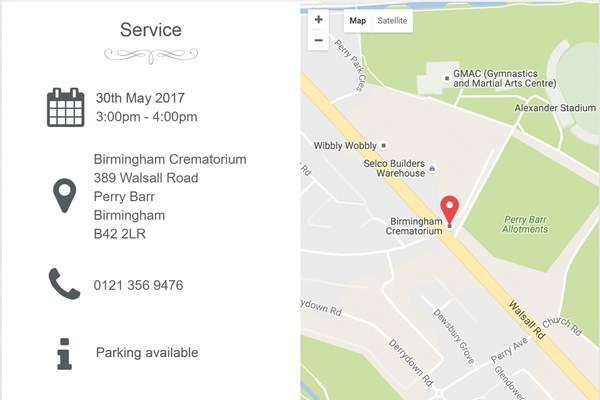 Why should you have a Funeral Notice?
Funeral Notices are the quickest and easiest way to share funeral arrangements with family and friends. Not only does it provide details of the funeral, but it can also be personalised to reflect the individual life of your loved one.
Share the details of the funeral
You will be able to share the Funeral Notice with specific people via email or text. Choosing to share a death announcement more widely on social media platforms can be a useful way to inform people you may not know directly; such as colleagues, old friends and social groups.
It's completely up to you who you want to share a death announcement with and notifying multiple people at the same time is quick and easy. The Funeral Notice will not be visible online until you have approved all of the details.
A Funeral Notice can help family and friends plan their journey
Help family and friends plan their journey by sharing details of the venue. This may include the funeral service, committal and reception. It is particularly useful for attendees who are not local or venues which may be difficult to find.
Collect charity donations online
You may wish to raise money in memory of the deceased. This is a popular way for people to offer their condolences and leave a message, even if they cannot attend the funeral.
If you do choose to collect donations online, it often raises more money for the charity than a traditional collection does, as Gift Aid can be added to eligible online donations. The Funeral Notice can also be kept online for six months after the date of the funeral, making it possible to collect donations once the service has taken place.
We're partnered with JustGiving, a secure and trusted platform which supports over 25,000 registered charities worldwide.
Funeral flowers and floral tributes
With a selection of beautiful arrangements provided by eFlorist, family and friends can easily send flowers and floral tributes directly to the funeral service, or to the family, should they wish to do so.
It is a convenient way for those that live far away or cannot attend the funeral to send their condolences. Family and friends won't have to worry about the flowers arriving on time or delivering them to the wrong address, as this will all be organised on their behalf. 
Keep people updated if the funeral arrangements change
Family and friends can be kept up-to-date if any of the arrangements were to change. They can choose to receive notifications using their email address and, if the details do change, we will send them an email to let them know.
Add a cherished photograph to a funeral announcement
Upload a personal cherished photo. This may be a memorable photo of your loved one or an image which reflects and celebrates their life. Adding a special picture of your loved one to a Funeral Notice can be a heartfelt way for your family and friends to say farewell.
Write a heartfelt obituary
Our Funeral Notices service allows you to write a personalised tribute about the person who has sadly passed away. This obituary can be as short or as long as you want and it is a great way to share details about their life with family and friends. You can include things such as their hobbies, favourite places or any treasured stories. You may also wish to give instructions or pass messages on about the funeral service.
If you feel like you can't find the right words, read our guide on how to write an obituary. Alternatively, you can contact your local Dignity Funeral Director who will be able to offer all the help and support you need.
How do Funeral Notices work?
If you choose to arrange the funeral with us, you will be given the option of a complimentary Funeral Notice. We will set it up for you using the details discussed during the arrangements. All we need is an email address so that we can send you a unique link to review the details.
If you don't have an email address, you can provide us with an email address of a family member or friend who can manage the Funeral Notice on your behalf. We will only use the email address provided for communications and updates relevant to this service.
The person chosen to manage the Funeral Notice will be sent a unique link via email so that they can securely log in, personalise and approve it before choosing how to share it with family and friends.
Get in touch with your local Dignity Funeral Director to find out more about our Funeral Notices service.