Cremation urns for ashes
Following the cremation of a loved one, you will need to decide the final resting place of the ashes. You can keep the ashes in an urn, scatter them, or bury them. If you would like to place the ashes in an urn, we have a range of cremation urns to choose from.
We also have scatter tubes available in a range of designs. These are suitable for interment, scattering ashes, or as keepsakes. They are made from over 90% recycled materials and are biodegradable.
This guide covers:
What is an urn?
A cremation urn is a decorative container in which the cremated remains, or ashes, of a loved one are placed. An urn is typically in the shape of a vase, often with a cover, and they can be made from a variety of materials.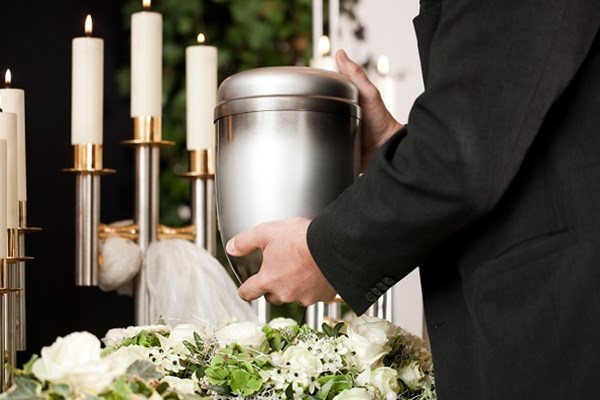 Types of urns
When choosing an urn for a loved one's ashes, there are a number of things that you will need to take into consideration. The choice you make may depend on what size urn you need and which style of urn you prefer.
Some of the most popular types of cremation urns include:
Individual urn
An individual urn is one of the most popular choices as they typically hold the ashes of one person. Like other types of urns, they come in a variety of shapes and materials.
Companion urn
Companion urns are usually larger in size as they can store the ashes of two people and are a popular way of remembering the life of a loving couple.
Keepsake urn
A keepsake urn is typically smaller in size and is often chosen when families have decided to divide the ashes. You may also choose a keepsake urn if you wish to scatter some of the ashes and keep a portion of them.
Infant urn
Infant urns are available if you have sadly lost an infant or small child. They are usually smaller in size and are there are a number of touching child themes to choose from.
Pet urn
Pet urns can be a great way to memorialise the life of a much-loved pet. They come in a range of styles, shapes, colours and designs.
Biodegradable urn
Biodegradable urns are also available and are the ideal choice if you are organising a green funeral. You are able to plant biodegradable urns in the ground as they will decompose over time and will avoid polluting the soil.


What are urns made of?
Urns can be made from different materials, for example:
Wood

Stone

Ceramic

Glass

Stone
Ceramic is the most commonly used material for cremation urns. People often choose wooden urns for ashes if they'd like to display the urn indoors. Depending on the manufacturer, you might be able to add engraved inscriptions to a wooden funeral urn.


What mementoes can be placed inside an urn?
The size of the urn and amount of ashes you would like to keep will determine what mementos you can place inside of it. You may have something sentimental that you want to put in it, such as a lock of hair, a personal message or even your wedding ring. The choice is completely up to you.
Discover our range of cremation urns
Contact your local Funeral Director. They will be able to talk you through their extensive range of urns and scatter tubes.