How does it work?
It's an easy process to set up a Funeral Notice and all you need to have is an email address. From the details discussed during the arrangement your Dignity Funeral Director will create the Funeral Notice for you. They will then email you with a unique link so that you can confirm or edit the Funeral Notice, before sharing it online.
Funeral Notices was created by Dignity to be:
Convenient - All the funeral arrangement details are in one place, accessible on any internet enabled device
Quick - You can notify multiple people at once, wherever they are in the world
Useful - You can inform people you may not know directly, such as colleagues, old friends, or social groups
Straightforward - Share the Funeral Notice in three easy steps (login, personalise, share)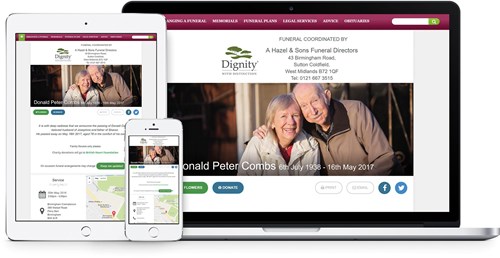 Your online Funeral Notice
The unique page created by your Funeral Director, will include details of the date, times, and venues of the Service, Committal and Reception, including a map and downloadable directions. And if there are any changes made to the details then they will automatically update within the Funeral Notice.
There are then a few areas where you can add your personal touch before sharing.
An Obituary
This can be as long or as short as you want - it is a chance for you to write about the person who has passed, providing details about their life that you wish to be shared with everyone.
Floral Tributes
Give family and friends the opportunity to send flowers directly to the funeral service. This service is provided by Eflorist and is fully automated within the Funeral Notice created for you. This is an option and can be turned on or off as you choose.
Charitable Donations
If you wish to allow people to leave a donation, this is also possible through a special Just Giving service. People will be able to donate and leave personal messages of condolences that will be added to the bottom of your Funeral Notice. This is an option and can be turned on or off as you choose.
Keep family and friends updated
On occasion funeral arrangements change. Family and friends have the opportunity to leave their email address so if anything does change - then they will be automatically notified to save you having to worry about contacting everyone.
Sharing your Funeral Notice online
Once you are completely satisfied with all aspects of your Funeral Notice, you can then share it by selecting one or more of the following options; email, Facebook, or Twitter.
Funeral Notices is currently only available in some of our Funeral Director locations. It will be available throughout the nationwide network of Dignity Funeral Directors very soon.
Search for a Funeral Director
Dignity Funeral Directors are here to help you in your time of need,
24 hours a day, every day of the year.