Memorial headstones
To commemorate a loved one who has passed away, you may want to consider fitting a headstone on their grave. This guide explains how to choose a memorial headstone, from the shape and design to the commemorative message.

What is a headstone?
A memorial headstone is a slab of stone that's set up at the head of a grave. Also known as a tombstone or gravestone, this type of memorial can have inscriptions on, for example, the deceased's name, date of birth, and date of death.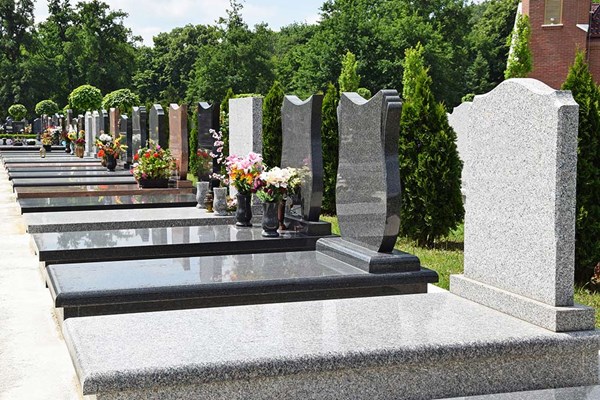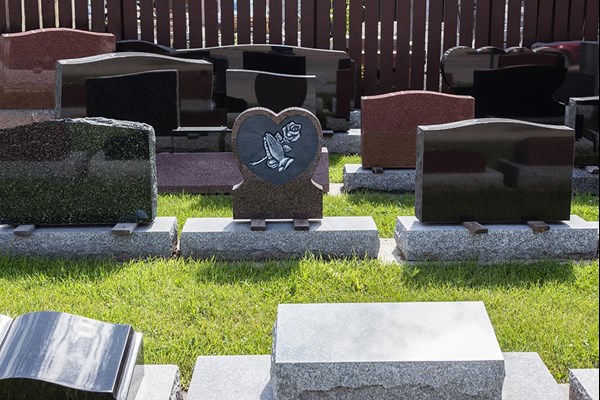 How to choose a headstone
If you would like to choose a headstone to commemorate your loved one, you will need to consider:

Cemetery rules and regulations
In the UK, there are certain rules and regulations cemeteries put in place regarding memorial headstones. Whether the cemetery is owned by the council or is private property, it's important to get an understanding of the regulations before you choose a headstone.
The main rule is to wait before having the headstone fitted. Depending on the burial site, you could be waiting from between six weeks to 12 months for the earth to settle.
You may also be restricted on the type of stone available because this depends on the location you choose. Often, cemeteries will have certain restrictions or preferences about headstone material. If you want to find out more about your chosen cemetery's regulations, your local Funeral Director  can advise you on these.

Material
Marble, limestone, granite, and bronze headstones are common choices. When choosing the material, consider how easy it is to maintain and the overall finish you'd like it to have.
Granite: A durable material that can withstand the test of time and harsh weather conditions. If you choose a granite headstone, you aren't limited to grey and white colours in the design. Ask your local Funeral Director which colours are available.


Bronze: This material will darken over time and can be more costly than granite, but it's easy to maintain.


Marble: A strong material with a pleasing appearance, but not as hard-wearing as granite.


Headstone designs
Once you've decided which material you would like, you'll need to think about the design of the headstone. You can choose from any of the following:
Upright headstones: A traditional choice, fixed to the ground with a concrete base.


Flat headstones: These are laid flush or slanted on the ground.



Finish
You can then think about what finish you would like the headstone to have. There are a few options:
Polished: Gives a smooth, shiny glass-like appearance. Polished headstones require high maintenance to clean.


Part polished: You can choose to have the face of the headstone as a glossy finish, and the rest of the headstone unpolished.


Honed: Non-reflective, this design is made by removing the polish using dust, and it's often used if the headstone will have colours on.


Shapes
Next, you'll need to think about which headstone shape you'd prefer. It's completely up to you which shape you choose. There are lots of options:
Peon top

Offset peon top

Oval or arch

Oval with shoulders

Square top with rounded shoulders

Round top with rounded shoulders

Personalising a headstone
You may be able to add text and visuals to the headstone design. Ask your Funeral Director what your limitations are depending on the size and shape of the one you choose. For example, if your loved one was musical, you might like to have an engraving of the instrument they played. It's completely up to you if you choose to add an image or not.
When it comes to adding text, you'll need to choose the style of font for the message and what it will actually say. Your local Funeral Director will be able to provide advice and guidance on this, should you need it.
Read our guide on what to put on a headstone.
Choose a headstone to commemorate your loved one
If you would like to choose a memorial headstone to commemorate your loved one, please contact your local Funeral Director for further help and advice.
Search for your local Funeral Director