Coffins, caskets and urns
This guide will provide you with information on our extensive collection of coffins, caskets and urns, including our colourful and picture range which gives you the opportunity to plan a unique service for your loved one.
This guide covers:
Choosing a coffin, casket or urn
Choosing a coffin, casket or urn for your loved one can often help with the bereavement process and is an important part of your funeral arrangements.
We understand that deciding on a final resting place for a loved one can be very distressing for some people. At Dignity, our caring funeral professionals will be on hand to support and guide you through all of your available options.


What is the difference between a coffin and a casket?
The main difference between a coffin and a casket is in the design. Coffins are tapered at the head and foot, wide at the shoulders and often have six sides.
In comparison, caskets are rectangular in shape with four sides. They are often constructed of better quality materials with a hinged lid.


Traditional funeral coffins
Our traditional and classic coffins are suitable for both burial and cremation and are available in different colours and materials.
In choosing a coffin, we are aware that caring for the environment is an important consideration for many people. Our aim is to provide you with excellent quality and service whilst looking to reduce any impact on the environment.
The majority of Dignity coffins are British made and certified by the Forestry Stewardship Council (FSC). This certification ensures that the wooden products used in our coffin manufacturing come from forests that are managed to high standards.


Casket collection
Alongside our traditional funeral coffins, we also offer further choice in the casket collection. Every individual's needs are different and we give you as much support, help and advice as you need when choosing a casket for your loved one.


Colourful and picture coffins
Our Colourful Range gives you the opportunity to plan a colourful funeral that reflects your loved one's passions or celebrates their life.
If you want your loved one's funeral to be truly unique, you can choose a picture coffin from our select designs.  For an additional cost, you can even choose a completely bespoke picture coffin, taking inspiration from a special place, their favourite sport, hobby or even a personal photograph.
The Colourful Range will ensure your loved one's funeral is as unique and individual as they were.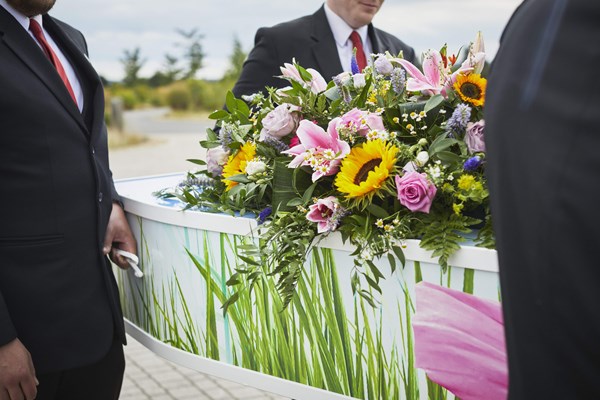 Eco coffins 
Dignity takes the responsibility of managing global resources seriously and endeavours to source products ethically and with consideration to the environment.
As a result, we offer a range of eco and biodegradable coffins, containers and scatter tubes made from sustainable materials for woodland burials and green funerals.


Ashes urns and caskets
Following the cremation of a loved one, you will need to decide the final resting place of the ashes. You can keep the ashes in an urn, scatter them or bury them. If you would like to place the ashes in an urn, we have a range of ashes urns and caskets to choose from.
Scatter tubes are available in a range of designs and are suitable for interment, ashes scattering or as keepsakes. They are made from over 90% recycled materials and are biodegradable.
Our range of coffins, caskets and urns
Your local Dignity Funeral Director will be able to talk you through their extensive range of coffins, caskets and urns
Search for your local Funeral Director

Things to consider
Placing personal items in a coffin or casket
You may want to place personal items, such as photographs, letters or flowers, in a coffin or casket. Our caring funeral professionals will be more than happy to make these arrangements, providing a fitting tribute for your loved one.
Please keep in mind that there are some restrictions with burial and cremation funerals, so please contact your local Funeral Director to discuss all of your available options.
Religious and cultural requirements
Every coffin has a nameplate. If you want any religious or other symbols on the coffin we have a wide range available, including Asian and non-Christian symbols. We also have cords and tassels for traditional Scottish funerals.
Memorials
Memorials are a way to remember our loved ones and can range from headstones at a grave to a simple flower in a garden of remembrance. Memorials provide comfort for many people, giving them a place to visit to remember the person who has died.
When choosing a memorial it is important that you have time to reflect on your decision and understand the different regulations that may affect your choice. We can help you with your choice of memorial after the funeral.